Grimes Warehousing Services Celebrates 3 Years of Safe Days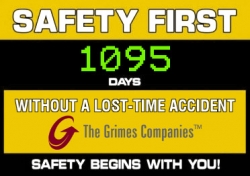 Jacksonville, FL, January 28, 2014 --(
PR.com
)-- Grimes Warehousing Services has reached their safety goal of three years without a lost time accident in the warehouse, which also includes their packaging division and their distribution staffing division, Metrix Staffing. The goal was met last Thursday, January 23rd.
The Grimes Companies'
high safety standards
, on-going education, and exceptional staff made this remarkable achievement possible. "It's gratifying to work with people who are committed to safety," commented Michael O'Leary, President of TGC. "I'm proud of their achievement, but even more delighted that three years of safety is not just a goal to them, it's a way of life."
Meeting this goal highlights The Grimes Companies' strong commitment to operational safety. "We continually invest in our employees' well being with safety training and regular briefings. This is a company-wide initiative and we take it seriously," stated Neil Porter, Director of Operations for Grimes Warehousing and Grimes Packaging.
Safety will continue to be a top priority for The Grimes Companies as they look forward to their next safety goal. "Grimes has some of the highest safety standards of any company I know of," remarked Will Wheeler, Safety Coordinator for TGC. "It's exciting to see what we will continue to achieve with everyone's commitment to make this a safe place to work."
About The Grimes Companies (grimescompanies.com)
TGC, a Jacksonville, Florida based company, currently operates both public and contract warehouses, light manufacturing and packaging operations, and distribution staffing out of Jacksonville, FL, along with trucking terminals in both Florida and Georgia. As a single-source solution for logistics and supply chain needs, TGC provides warehousing, transportation, packaging, and staffing to its clients.
Contact
The Grimes Companies
Michelle Mauricio
800-881-9505
www.grimescompanies.com

Contact