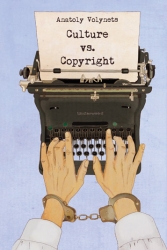 Belmont, CA, February 06, 2014 --(
PR.com
)-- While many believe that first-graders are only concerned with playtime, Anatoly Volynets knows that the honest and uninfluenced minds of first-graders can provide an innate and grassroots insight into myriad subjects, including, for example, culture and exclusive rights. He learned this having spent a great deal of time conducting experimental dialogues in elementary schools. After striking and insightful conversations with the students and less striking conversations with adults, Volynets has compiled his findings into a powerful new upcoming book titled "Culture vs. Copyright."
Synopsis:
"Culture vs. Copyright" is a kind of a diary of a "naïve philosopher" - a teacher who discusses issues related to exclusive rights with five first-graders. These dialogues comprise a large part of the book. The teacher becomes inspired by the children's enthusiasm, writes down his own thoughts, runs into doubts and new ideas, brings his ideas back to the children, furthering discussion, and writes again. And so it goes. The book explores different aspects of culture, its relationship to human beings and to the human condition, to civilization in general and to economics in particular.
Regarding the history, it all started when the FBI arrested a Russian researcher Dmitry Sklyarov in 2001 on the grounds of violating the DMCA. He was giving a presentation on digital security, using as an example a flaw in Adobe e-book encryption. The software development community around the US was outraged. Programmers staged street protests and started discussions and "Free Dmitry" campaigns. Volynets' son participated in many of those and by extension, got the future author involved. The discussions grew to encompass all of his knowledge based on cultural studies. Thus this book came into being, piece-by-piece.
The author emphasizes that, while the topic of exclusive rights may first appear specialized, it is an issue that affects everyone.
"So-called intellectual property, derived from exclusive rights, causes turmoil that has an impact on everyone's lives. It affects markets, education, healthcare, civil liberties, culture, and creativity. The real impact of IP needs to be clarified to the average person living in the world today," says Volynets.
"My book examines the arguments built around interrelations between culture and civilization, culture and economy, culture and human psyche, creativity in art and non-art. Other topics such as the past, present, and future of exclusive rights are also touched upon."
The book's chapters offer a number of questions, including: is art the realm of ultimate freedom? Do creators owe anything to humanity? Do exclusive rights work in the way they are designed to? What relationship exists between creativity and freedom of speech? Topics exploring what would happen if exclusive rights were abolished are also covered within the book's pages.
"The last chapter frames the ideal situation – one where the legal framework to govern cultural affairs is based on the nature of culture itself. I urge everyone to explore that concept in further detail – it will be interesting, I promise," Volynets adds.
"Culture vs. Copyright" is due for release in February of 2014.
See information in detail at: http://cvc.culturedialogue.org or bit.ly/NIQBVB
About the Author:
Anatoly Volynets' activities while living in Ukraine and the US have included: computer programming, military service, Talmud studies, psychology research, business, teaching math, physics, programming, and philosophy. For many years he has participated in an international project titled "The School of the Dialogue of Cultures."
Contact:
Anatoly Volynets
1-650-430-4991
av@total-knowledge.com