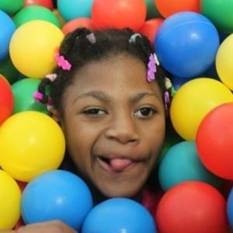 Murfreesboro, TN, February 07, 2014 --(
PR.com
)-- This is Togrye Orthodontics third year of involvement with Special Kids events including participation in their race and the Cornelius Christmas program. This year they are running and raising money for Danielle, one of the children being served by Special Kids. They would like to invite participation through either running with Team Togrye on March 22nd or by donating for Danielle. To register for the race or to donate go to: https://www.impactspecialkids.com/fundraiser/team-togrye-for-danielle
Or scan the QR code to go directly to their Impact Page. Everyone donating or running will be placed in the drawing for a gift card. Dr. Togrye will match all donations up to total of $1000. All help is appreciated. The deadline for participation is March 15th, 2014.
According to the Special Kid's staff, "Danielle is a sweet and loving little girl that is back in Special Kid's nursing hall. She is working on physical therapy, occupational therapy, speech therapy, and works with a skilled nursing program. She freely exchanges social greetings and gestures to everyone she sees. In therapy, Danielle blows bubbles and horns to improve her lip strength and mobility for speech clarity. She imitates a combination of two-word phrases, such as: "my baby, mama go, and ball in." Danielle enjoys playing with babies, little people, and puzzles while working on her goals. Danielle is full of hugs and is a joy to work with."
Dr. Togrye has been committed to giving back to the children in our community through sponsoring events that involve children. He is also active in the Children's Discovery Center and donates his orthodontic services to children at the Boys and Girls Club of Rutherford County. He is an active board member and sponsor of the Murfreesboro Soccer Club. Dr. Togrye also gives freely of his resources to various schools and sports leagues in the community.
Dr. Togrye is an alumnus of Vanderbilt University, University of Tennessee, and MTSU and has been practicing orthodontics for over 20 years. His offices are located at 152 Heritage Park Dr. in Murfreesboro, and 1211A Hazelwood in Smyrna Tennessee. For more information about Dr. Togrye, visit www.bracesdoc.com or call 615-848-0011.
About Special Kids: Special Kids is a Christian, nonprofit organization that provides therapeutic rehabilitation and professional nursing services to children with special needs. They opened their doors in 1998 in Murfreesboro, TN, and started with just one child. Since then, Special Kids has served over 2,000 children from 11 different counties in middle Tennessee. They offer physical therapy, occupational therapy, speech language pathology, feeding therapy, nursing services, recreational therapy, art therapy, and a summer day camp. They serve children with special needs ages birth to 21 years who have been referred to the organization by a physician. www.specialkidstn.com
Press Contact: Ginny Togrye
Dr. Anthony Togrye
615-848-0011
gtogrye@bellsouth.net