Texas Self Storage Association Donates $100,000 to Shriners Children's Hospital in Galveston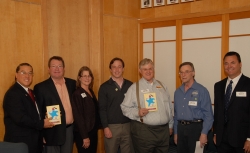 Round Rock, TX, February 07, 2014 --(
PR.com
)-- The Texas Self Storage Association (TSSA) donated $100,000 at the end of 2013 to the Shriners Children's Hospital in Galveston. This Association has raised funds through various events held during their annual conference for the past 13 years. This is the second largest donation they've made to-date in support of the hospital's work to help burn victims and their families.
A group representing TSSA visited with the hospital's Board of Governors in Galveston on January 27, 2014. TSSA Fundraising Committee Co-Chairs David Hunt and Doug Hunt provided an overview of TSSA's fundraising projects and explained the Starfish: Make a Difference Campaign which allows members to solicit donations and increase awareness among their customer base.
Also attending the presentation were Mark Skeans, Immediate Past President of the TSSA Board; Sherrie Skeans, Mission Road Mini Storage; Bill Bellomy, Bellomy & Co.; and, Dan Hottowe, TBRC Roofing. The group was treated to a private guided tour including various areas of the hospital and meeting some of the dedicated staff. The highlight of the tour was a demonstration of the innovative virtual reality program that helps patients overcome pain during physical therapy. The virtual world created for this purpose, distracts and engages the other senses leaving less thought processes available to focus on the pain, and thus aiding recovery.
These supporters of the Hospital view the tour and presentation as a privilege and an inspiration to continue with the fundraising for another year. Fundraising Co-Chair Doug Hunt stated, "It is an honor to be a part of an organization committed to supporting this amazing hospital network. When we first started this I couldn't have dreamed that eventually we'd be able to donate over $100,000, but TSSA members are generous to the core."
The TSSA Fundraising Committee is already making plans for the next campaign, which take place mainly at the Association's annual conference on October 26-28, 2014 in Fort Worth.
About TSSA
The Texas Self Storage Association was established in 1986 and is a non-profit trade association dedicated to enhancing the quality of the self-storage industry in Texas. The Association provides opportunities for members to increase their knowledge of the self-storage industry through education, research, discussion and exchange of information. For More Information: Texas Self Storage Association –
www.txssa.org
About the Shriners Hospital for Children - Galveston
The Shriners Hospital for Children in Galveston has been a pioneer in burn care since the 1960s. Patients receive advanced care for burn injuries and related scarring, along with physical rehabilitation and emotional support to help them cope with re-entering their school or community after their injury. Care is provided without regard to race, color, creed, sex, sect, disability, national origin or ability to pay.
Contact
Texas Self Storage Association
Silvia Pendleton
512-374-9089
www.txssa.org
(888) 259-4902

Contact