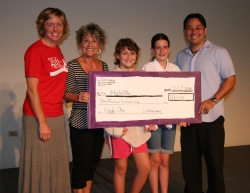 Kailua, HI, February 11, 2014 --(
PR.com
)-- Students from
Le Jardin Academy
's Student Council are helping make a difference in their community.
On Friday, the lower school student council, represented by 5th graders Malia Swirsky and Lily Edwards, presented a check to the Hale Ola Windward Abuse Shelter for $1,660.00.
Students in grades Kindergarten through 5th helped raise money through a canned food drive and t-shirt sales and donated to the Hale Ola Windward Abuse Shelter in Kailua, Hawaii recently.
Students performed in a concert, titled The Gift of Giving. In order for students to have a deeper connection to what they sang, students put the message in action through service.
Shelter Director, Avis Kalama, was thrilled with the donation. She told the students she was overwhelmed with gratitude and that it will help make such a difference in the lives of the women and children they serve. When the students asked Kalama what was needed the most at the shelter, she said, "We need clothes and things people use everyday." Starting to tear up, she added, "That's why we are here, to help our women and children."
The check presentation took place during Friday Flag at Le Jardin Academy in Kailua, Hawaii.
Le Jardin Academy is an IB Accredited private school for students from Pre-K through grade 12. The school is nestled in the hills, overlooking Kailua town, and boasts a small school atmosphere with an outstanding education, preparing children to be leaders through caring and compassion.
Founded in 1992, the Windward Souse Abuse Shelter, named Hale Ola by the community as "Hale Ola" means "House of Life" in Hawaiian, is a 24-hour 365-day emergency shelter for women and their children victimized by the trauma of domestic violence and homelessness. Our goal is to "save one life at a time." For more information about the shelter, call 808-528-1033.
Photo: Lower school Principal Majken Johansson, Hale Ola Shelter Director Avis Kalama, Student Council members, Lily Edwards and Melia Swirsky and LS Music Director Micah Hirokawa.
Media Contact: 808-783-1705 Cynthia Manley
Cynthia Manley
Director of Public Relations
Le Jardin Academy
808-261-0707 X1720
Follow us on Twitter: www.twitter.com/lejardinacademy
Connect with us on Facebook: www.facebook.com/lejardinacademy