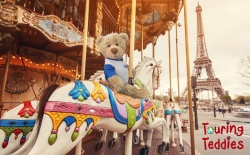 Brooklyn, NY, February 10, 2014 --(
PR.com
)-- Touring Teddies delights today's kids with a gift experience that is both new… and foreign.
We're always on the lookout for the perfect gift that will bring a smile to a child's face, but how many times have we given a gift to a child, only for it to be tossed aside and forgotten an hour later? With all the time and cost we invest, we want it to be worthwhile and appreciated. According to Leah Chamish, founder of the Touring Teddies Gift Experience, "Touring Teddies provides the ultimate solution, a gift experience that will delight and amuse."
The Touring Teddies Gift Experience brings the world to the child in your life through a globe-trotting teddy bear. Each Touring Teddy represents a country far away. Your child's bear will keep in touch as he travels sending a personalized package every week for three weeks, with letters, photos, and toy souvenirs telling of his travels. The experience concludes with the arrival of teddy himself on the fourth week—finally home to stay and play. Or, choose to receive all packages at one time. Details can be viewed on the Touring Teddies Kickstarter page
http://kck.st/Lwf98R
and at www.TouringTeddies.com.
Why Give a Touring Teddy? With the use of email and Skype, there aren't many kids today who get the unique experience of getting post office-stamped letters from a friend far away. And while letters may seem old-fashioned, that's precisely why the Touring Teddies Gift Experience is so incredibly cool. There are many high-tech toys out there, but each child to whom they gave the Touring Teddies Gift Experience absolutely loved getting mail from their teddy, and were so excited as they waited for each package. Leah Chamish says, "they appreciated it perhaps even more so than those of us who grew up with pen-pals—seeing their name on a brightly decorated envelope is a new and exciting concept for our kids, and is something that will not fail to bring a smile. And it's more than just a toy—The Touring Teddy's letters and travel photos offer educational and cultural value. It's a gift that's sure to be appreciated and remembered."
The goal, as described by Leah Chamish: "Over the past years I have sent Touring Teddies to my own daughter, her cousins, as well as to friends' kids. Each child loved the experience. One day I thought, 'Why should I keep this to myself when I can help others bring joy to the kids in their life?' I'm so excited to bring this fun, exciting, and educational gift experience to anyone looking for a thoughtful gift."
Bring home a Touring Teddy and you bring home the world!
Kickstarter Link: http://kck.st/Lwf98R