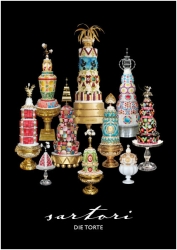 New York, NY, February 11, 2014 --(
PR.com
)-- Designer Ms. Petra Bacher's portfolio of cakes featuring high-design, large scale cakes from her Vienna-based
Sartori die Torte studio
received the 2013 Silver Galaxy Award from MerComm, Inc. (New York), which administers the widely recognized Galaxy international marketing communications and design competition.
Ms. Bacher was praised "for her most unusual offering" by Ms. Reni Witt, CEO of MerComm, who said, "This is the first time in the 24 year history of the Galaxy Awards that a portfolio of cakes has been submitted. The judges, who represent top marketing and communications specialists from around the world, praised the highly imaginative approach" of Ms. Bacher's work.
Petra Bacher's Sartori die Torte designs draw upon centuries of design elements from the Austrian Hapsburg Dynasty through successive periods of Baroque, Classic, Jugendstil, Art Nouveau, Art Deco, RingStrasse-era, Weiner Werkstätte and Biedermeier eras to modern and post-modern design elements -- all expressed as highly decorated, large scale cakes commissioned as iconic marketing promotions, banquet centerpieces, desserts, and special event pastry showpieces.
High-design cake entries from the Sartori die Torte portfolio included the one-meter-tall Makart Cake commissioned by the Vienna Museum for the opening of the Hans Makart exhibition, a Gustav Klimt-inspired Secession-era cake design, an Art Nouveau pedestal cake inspired by Architect Otto Wagner, a flower basket cake informed by the Biedermeier design era as well as decorative cake designs inspired by textile patterns, needlework, nature, bookshelf constructions or, in some instances, purely festive artistic whimsy cakes that she calls "poetry on a pedestal."
All works are edible and original, which Ms. Bacher calls "unique, one of a kind, edible art." The German-speaking Vienna critic for Gourmet News/Mahlzeit observed that Petra Bacher "bringt frischen Wind" [brings fresh wind / fresh air] "to the Vienna pastry design scene." [translated]
Looking closely at Ms. Bacher's creative and imaginative designs, an observer can see hand crafted towers and flowers, and edible details such as capitals, cornices, florets, medallions, mouldings, pilasters and rosettes informed by the work of painters, jewelers, architects, sculptors as well as interior and garden designers, who have earned Austria's esteemed, centuries-old design pedigree and reputation.
A native of Vienna, Austria, Ms. Bacher holds the Austrian Magister of Art (Master of Fine Arts) degree and has worked as a logo designer, package designer, textile designer, garden designer and interior designer, and Asst. Professor of Textile Design at Vienna's University of the Applied Arts [Universität für angewandte Kunst-Wien].
The Portfolio of Cakes and other works can be seen at www.sartori-torten.at
Contact Petra Bacher in Vienna, Austria, at office@sartori-torten.at
USA Contact: Daniel Kennedy Communications at dkennedyco@aol.com