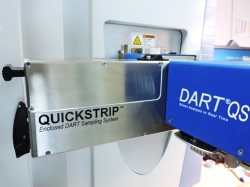 Saugus, MA, February 14, 2014 --(
PR.com
)-- IonSense, Inc. today announced the introduction of the DART®-QS Source for rugged direct sample analysis using its Direct Analysis in Real Time –Mass Spectrometry technology, which can detect a range of materials from drugs of abuse to adulterated products in as little as 10 seconds per sample. Both qualitative and quantitative results can be obtained, providing rapid feedback, and alleviating backlogs. The source utilizes QuickStrip™ Sample Cards for automated analysis of 12 samples. They are simple to use, insure that no cross -contamination occurs, and can be loaded automatically or manually, including standards for quantitation.
"For critical samples, our customers need an increased level of security and robustness, which we provide with the use of QuickStrip Sample Cards in the new enclosed DART-QS Source," said Brian Musselman, IonSense CEO. "Additionally the source can be used with nitrogen or helium, providing additional breadth of coverage, and minimizing background ions.
The source can be mounted on all Thermo ion trap products including the ultrahigh resolution EXACTIVE+ mass spectrometer permitting acquisition of precise accurate mass measurements, often sufficient to identify unknowns.
In addition to the exhibition, DART technology will be highlighted in a number of presentations from leading laboratories.
· A Method for the Analysis of Lotions Using Direct Analysis in Real-Time Mass Spectrometry (DART-MS)
· Chemical Profiling of Forensically Relevant Bacterial Threat Agents With Direct Analysis in Real-Time Mass Spectrometry (DART-MS) and Fatty Acid Methyl Ester (FAME) Analysis
· Rapid Determination of Adulterants in Aqueous Mixtures by DART-MS
· High Throughput Analysis of Street-Quality Drug Mixtures by DART-MS Analysis and MassWorks™ Post Acquisition Characterization
· Characterization and Discrimination of Printing Inks Using DART-MS, Py-GC/MS, and ATR-FTIR for Forensic Document Analysis
About IonSense
IonSense, Inc. provides Mass Spectrometry solutions to the fields of food safety, forensics, drug development, and chemical analysis. They manufacture and develop Direct Analysis in Real Time (DART®) and Atmospheric Solids Analysis Probe (ASAP™) technology. The company provides sources and accessories for JEOL, ThermoFisher, Agilent, AB SCIEX, Bruker, Shimadzu, and Waters mass spectrometers. IonSense products, including DART and ASAP technologies, are distributed in Europe by KR Analytical Ltd, in China by ASPEC Technologies, in Japan by AMR Inc., in India by Orochem India, in Korea by Omics Biotech, in Canada by VBM Science, Ltd., and International Laboratory Supplies Pte. in Singapore. For more information go to ionsense.com.