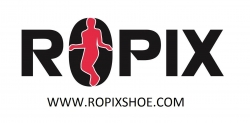 New York, NY, February 14, 2014 --(
PR.com
)-- Ropix, founded by Dennis Dwyer, created the very first sports shoe designed specifically for jump rope. Ropix users benefit from the first shoe of its kind. Ropix will not only satisfy a sports specific need, but will also provide a new look for the casual footwear and street chic market.
Ropix started as an idea in a boxing gym in 1991. As every boxer knows, jumping rope is an integral part of their training. However, there has never been a proper shoe for it. Years later, Dennis Dwyer decided to create a shoe that would fulfill this need. To ensure the shoes were the highest level performance footwear, Dwyer partnered with expert industrial designer Joe Napurano for a solution. Although Dennis Dwyer had an extensive career in high-end Men's footwear, he knew it was necessary to find experts in the sports footwear Industry.
Joe Napurano is a graduate of the Rhode Island School of Design. He has been designing footwear for over 20 years. Millions of shoes have been produced from his designs. Athletes have worn his designs from the local gym to NBA basketball courts, the grass courts at Wimbledon and in the Summer Olympics. He has consulted for a wide range of companies in the US and internationally.
The collaboration produced a system that enables the wearer to be light on their feet, provide quick response and protection from injury. This is what makes Ropix the best Jump Rope shoe on the Planet!
Speed rope technology is a system of materials, design and function. The sole is sleek and smooth. It is lightweight and flexible shoe that is made of a dual density rubber material with soft cushion "landing pad" in the ball of the foot area to dampen forefoot impact. The mid-sole forefoot turbine insert is designed to attenuate shock and is made of soft "bounce" rubber material.
Check out Ropix shoes on Kickstarter.com and get a pair at an amazing kickstarter price!
https://www.kickstarter.com/projects/1482742394/ropix-jump-rope-shoes
The first shoe of its kind, Ropix will benefit all sports enthusiast who participate in any activity with forefoot impact is a key component. Aerobics, calisthenics, martial arts, and jump rope are only a few of the potential applications for this premier forefoot trainer.