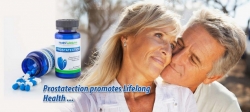 Boston, MA, February 19, 2014 --(
PR.com
)-- In response to the growing concern over the #1 cause of cancer in men, prostate cancer, a team of physicians consisting of two board certified urologists, one of which trained in Oncology at Sloan Kettering-Cancer Center, and an Emergency Medicine physician with a background in Bio-Chemistry have developed a groundbreaking all-natural organic supplement Prostatection. A scientifically formulated Men's Health supplement that supports proper prostate function by providing nutrients (like Beta-Sitosterol, Lycopene, Pygeum Africanum, zinc and selenium*) used by the prostate to regulate itself. "Our goal with Prostatection is to support and maintain proper prostate health giving men a better quality of life," says Michael Zachareas, MD.
Enlarged prostates may lead to malignancy and cause other disorders, such as
• Slow, disrupted urine flow.
• Urinary urgency.
• Sleep deprivation.
• Inability to empty your bladder.
"Prostatection's formulation contains potent antioxidants that can protect men's prostates as well as other organ systems. Beta-Sitosterol and Pygeum Africanum, are documented in their effectiveness to fight cancer cells and protect against prostate enlargement,*" says Steve Krendel, MD.
"We tailored prostate nutrition for normal prostate cell function, thus regulating growth in both number and size of cells*," says Fernando Bianco, MD.
Prostatection's Essential Ingredients
• Beta-Sitosterol: An important phytosterol found in plants, has been shown to have antiproliferative effects on prostate cells. Net results: Keeps prostate cell growth in check.
• Pygeum Africanum: Has a significant role in regulation of prostate cells both in vitro and in vivo studies. Net results Keeps Prostate Cell growth in check.
• Zinc: A trace metal, Zinc plays an important role in cell production, promotes healthy cell division and proper formation of tissues Net results: Keeps normal levels of zinc at intracellular level, which enhances normal organ function.
Prostatection's Powerful Antioxidants
• Selenium: In combination with the other ingredients, selenium has effects on DNA repair, immune systems, and antioxidant properties.
• Copper: Prevents cellular depletion.
To get more information on this revolutionary product go to
www.goodprostatehealth.com
Healthy Lifestyles LLC is the sole manufacturer of Prostatection™ and is owned, operated and proudly produced in the USA.
*Disclaimer: Products are not FDA approved and not intended to diagnose, treat or cure or prevent a disease but rather are dietary supplements intended solely for nutritional support.