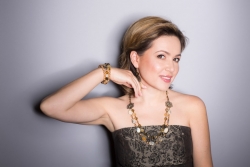 New York, NY, February 21, 2014 --(
PR.com
)-- Irina Kovalenko presented her unique jewellery collection in a debut showcase at Plitzs New York City Fashion Week on Feb. 6, 2014 at the Hotel Pennsylvania in Midtown NYC. The collection dazzled the New York audience with its unique, elegant and versatile jewellery designs.
Irina Designs jewellery collection presented a diversity of styles and colours and featured both glamorous evening pieces in rich jewel tones, silvers, golds and blacks as well as feminine daytime pieces in a vibrant colour palette. Irina Designs jewellery sets included unique necklaces, spiral bracelets and drop earrings. The versatile necklaces featured detachable flower brooches, unique pendants and multi-layered looks.
The inspiration behind Irina Designs brand, which was founded in 2012 was to create a brand of fashion jewellery which combined fashion-forwardness and timeless classic style, sophistication and affordability. Irina uses high-quality semi-precious stones, pearls, glass and crystal beads to create unique and versatile designs. She creates every piece by hand with patience, precision and great attention to detail. The jewellery designs are inspired by nature, fine art and international travel and cultures.
Irina Kovalenko was born and raised in Moscow, Russia and now lives and works in Toronto, Ontario. Irina's passion for jewellery design started in 2007 with a couple of beading classes at a local art and craft store, then became a favourite hobby and finally grew into a business venture in 2012. Irina has a Masters degree in Business Administration and previously worked as a Marketing Manager but her true passion always lied in art and design. Now Irina applies her marketing skills to growing her own fashion jewellery business.
Irina Designs jewellery can be purchased through the online boutique at www.irinadesigns.com which offers a unique customer experience matched with fast and reliable mail order fulfillment.
For media inquiries, please contact Irina Kovalenko, info@irinadesigs.com or 416-727-3967.