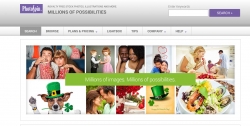 San Pedro, CA, February 27, 2014 --(
PR.com
)-- PhotoSpin,
www.photospin.com
, a leading provider of stock photography by subscription introduces tiered subscriptions and single-image purchases. In answer to requests from both customers and potential customers, PhotoSpin expanded their product offerings to include three levels of subscriptions, allowing subscribers to choose from 500, 750, and a whopping 1000 downloads per month starting at just $429.00 per year for 500 downloads. Their decision was made after receiving calls from subscribers and potential customers asking if they could download more images than allowed in a month with their current subscriptions. The top tier costs just $750.00 for an entire year of downloads and is a real bargain for the customer who needs to download 1000 images in a month. The single-image purchases have been a big hit for the customer who only needs a few images for a project and doesn't want or need to commit to an annual subscription. Priced affordable at $2.00 for a single low-resolution image, it's the perfect choice for the web designer who needs just a few images for a specific project or the marketing professional who needs a couple of images for an advertising flier and doesn't want to spend a lot but still wants quality images.
"We are very excited about our new product offerings. This gives our customers the flexibility to purchase a single image or up to 12,000 images to fit both their budget and image requirements throughout the year. For PhotoSpin it's all about giving our customers the choice that best suits their specific needs," says Val Gelineau, CEO/Co-founder.
About PhotoSpin, Inc.
PhotoSpin, Inc. is a leading provider of stock photography by subscription. Their vast library contains award-winning photographs and illustrations from some of the world's most renowned artists. In addition to images, their library also contains unique system fonts.
For more information about PhotoSpin, call 888.246.1313 or visit
www.photospin.com
Press Contact:
pr@photospin.com
888-246-1313