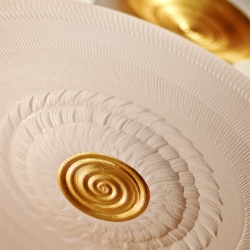 Dallas, TX, February 28, 2014 --(
PR.com
)-- Acclaimed Dallas gallery, Laura Rathe Fine Art, announces the exhibition debut of Texas contemporary artists, Katherine Houston and Lucrecia Waggoner in the two-person show, "Spring Eternal" with an opening reception on Saturday, April 5th, from 5-8pm.
As a pairing, both artists' complimentary bodies of work present unique mediums and techniques, as seen in Houston's bold 'reverse glass' paintings on acrylic and Waggoner's dynamic and fluid wall installations in porcelain and precious metals.
The "Spring Eternal" collection will be on display through May 10, 2014.
About The Artists
Houston artist, Katherine Houston has worked with a number of mediums, grounds and styles of painting. She explores abstract and bold scenery as motifs to describe the idea or infinite space. Her abstract paintings usually start with a color idea, and then evolve into compositions in which color is the primary subject.
Houston's has studied at various art institutions such as The University of Houston, Glassell School of Art and The Art League. She has also studied privately with a number of renowned artists, such as Will Clem, Ruth Munson, Polly Liu, Gary Hernandez, and Quang Ho. Houston's work has been acquired by a number of collectors both private and public, and has shown in fine art galleries nationwide.
Raised in Mexico City, porcelain and installation artist, Lucrecia Waggoner, recalls her first memory and discovery of ceramics at the age of 7 while visiting and viewing the collections at Mexico's nationally renowned museum, Museo de Antrpologia. As her interest and passion grew for the art of pottery, Waggoner continued her studies and education by enrolling in ceramics courses as she traveled across Europe. Upon her return to the states, she enrolled at Parsons School of Design in New York, where she met her mentor, porcelain artist, Heidi Loewen. Under the guidance of Loewen, Waggoner then formally began her career as a professional artist.
"My inspiration for my work comes from things that I see everyday and what I see when I am far away. My inclination for simplicity and minimalism in my work is a reflection of my travels throughout the world, especially the Far East."
As a contemporary artist, Waggoner implements and applies various materials in her artwork, including precious metals, such as 22k Gold, Palladium and Copper that add depth and illuminate each piece. With her artistic vision, she creates installations that are intricately mapped in forms and compositions that mimic elements derived from nature and abstract visions of landscapes. Waggoner's works are shown internationally and acquired in various private, public and corporate collections.
About Laura Rathe Fine Art
Formally established in 1998, Laura Rathe Fine Art represents a dynamic artist roster including emerging, mid-career, as well as blue-chip contemporary artists. With a primary focus on abstract expressionist painters, LRFA also represents diverse sculptors, mixed media artists, as well as photographers.
Located in the heart of the gallery and design districts of Houston and Dallas, Texas, LRFA provides art consultation services, hosts artist exhibitions and actively participates in notable art fairs. Working closely with private and public collectors, LRFA artists have been acquired into world-renowned corporate art collections, including BBVA Compass and HKS Architects Headquarters.