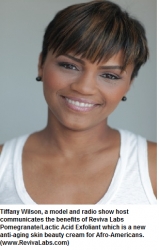 Philadelphia, PA, March 03, 2014 --(
PR.com
)-- A new anti-aging and skin beauty cream-used by Afro-American Models-is now available to the public.
It's an advanced exfoliant that can be used at home, if only one day a week, to provide a smoother, more radiant appearance, especially for hands and face.
Models gain a more youthful, smoother, more radiant look, and so now can others.
The cream is Reviva Lab's Pomegranate/Lactic Acid Exfoliant.
Users of Reviva's Pomegranate Lactic/Acid Exfoliant find it not only smooths and polishes skin, it also helps fight discoloration, and uneven skin tones. By removing dead skin cells, it enables fade creams to be absorbed deeper, thus "opening the way" for lightening ingredients to reach their target.
Reviva Labs, now in its 40th year of creating natural-ingredient skin treatments, for Skin Salons and Health Food stores, has been recognized by the Congress of the United States for its contributions to healthy skin care.
Reviva Labs Pomegranate/Lactic Acid Exfoliant comes in a 2-oz. jar and is available in some Health Food Stores or direct from the website www.RevivaLabs.com.
For more information about the "Pomegranate/Lactic Acid Exfoliatiant" and other Reviva products, visit Reviva Labs website and Facebook page where frequently asked questions and product information is posted regularly. Receive the free Reviva Beauty News at www.RevivaLabs.com, or tweet questions @RealRevivaLabs.
Note to Editor: A sample can be mailed to the Editor directly from Reviva Labs. Please let us know if there is a special name and address to whom an additional sample should be sent. Contact: Elena Cruz, American News Services, at 29 Bala Ave., Ste. 114, Bala Cynwyd, PA 19004; Tel.: 484-562-0060; E-Mail: adcomtimes@aol.com.