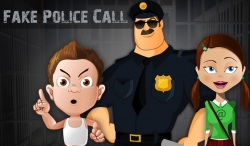 Palm Beach, FL, March 11, 2014 --(
PR.com
)-- Today Mick Keehan is announcing a new app he created called "Fake Police Call". Let your child receive a rewarding phone call from a police officer, named Sergeant Friendly. He will help improve your child's behavior with a simple phone call on your smart phone.
About Fake Police Call:
Is your child misbehaving or does your child deserve praise for something they may have done? Let your child experience a personalized phone call from Sergeant Friendly on your Apple or Android devices. The Lite app version is free. The full version is $.99 cents for the Apple and $1.00 on the Android.
The app contains 14 "Bad" and 14 "Good" scenarios to choose from depending on the child's behavior. You will be able to personalize the phone call with the child's name and behavior needs. Sergeant Friendly will then call your phone with a prerecorded message. If the child behaves favorably after receiving the initial call from Sergeant Friendly, you can choose the "Good" scenario to call the child back and praise them for their good behavior. This is a great tool for anyone who wishes to correct and reward a child's behavior. The app is available in English and Spanish.
The idea:
The creator of the app, Mick Keehan was visiting the mall with his two youngest children when both of them began to misbehave. He was embarrassed by their behavior and was willing to do anything to get them to listen. He told them that the mall police were watching them on the security cameras and that they needed to be good. At that moment, he thought to himself, how nice would it be to have a personalized phone call from a police officer to correct or reward your child's behavior.
He contacted his wife to tell her about it and she thought it was brilliant idea. After he gave it some thought, the app was developed and now it's available on Apple and Android devices worldwide for free. The character he created is Sergeant Friendly. Keehan says that Sergeant Friendly is a police officer that children can look up to as a role model. He didn't want to scare the children, so he made Sergeant Friendly very approachable and likable character. The first time he tried the app with his children, ages 3 and 5, they corrected their behavior immediately. About 10 minutes later, he arranged a second call to them so that Sergeant Friendly could praise them for being good. After the call they were ecstatic and couldn't wait to tell their dad what Sergeant Friendly had told them on the phone, "Daddy, Sergeant Friendly just called me and told me that he is proud of me for being good". He knew immediately that the app was going to be a hit with children.
The funny thing is that the creator of the app, Mick Keehan happens to be a Friendly Police Officer himself with over 18 years of experience. He hopes that children love the app just as much as his did.
To learn more about this app, please contact
Mick Keehan
(561) 201-5354
Email: fakepolicecall@aol.com
Website: www.fakepolicecall.com