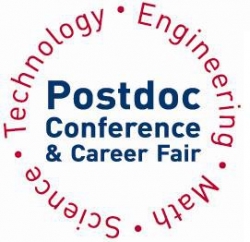 Rockville, MD, March 04, 2014 --(
PR.com
)-- On April 24, 2014, an estimated 500 post doctoral fellows in the science, technology, engineering, and mathematics (STEM) fields from around the Mid-Atlantic region will gather at the Bethesda North Marriott Conference Center for the annual
Postdoc Conference and Career Fair
. There they will meet with STEM talent-seeking companies in hopes of furthering their careers. The hiring entities claiming early participation in this industry-leading conference include MedImmune, FDA Center for Veterinary Medicine, Schafer Corporation, United States Pharmacopeial Convention, National Institute of Standards and Technology (NIST), MDA Information Systems and Children's National Health Systems.
The Postdoc Conference offers hiring companies and resource organizations an opportunity to connect with some of the nation's most astute STEM minds. The goal is to provide local hiring companies with access to a pool of top talent in our community; professionals with a Ph.D. who are finishing or have completed postdoctoral fellowships. Recruiting companies that participate will have access to a resume database before and after the event, and will have the opportunity to speak with hiring prospects onsite.
Conversely, the conference provides postdocs with a wealth of job searching, networking, and professional development skills sessions, along with access to potential job opportunities. This educational conference runs concurrently with the career fair, and will feature panels and speakers on such topics as interviewing skills, preparing for an industry career, negotiating a job offer, working for large or small companies, and steps to taking an entrepreneurial path.
Companies interested in learning more about this year's Postdoc Conference, participating in the Career Fair, and sponsorship opportunities should visit
www.postdocconference.org
. Past Career Fair exhibitors and resource organizations included:
-AAAS Science & Technology Policy Fellowships
-American Society for Biochemistry and Molecular Biology
-American Society for Engineering Education (ASEE)
-Asterix Technology Group; Center for Veterinary Medicine
-BioHealth Innovation, Inc.
-BioMaryland Center
-Center for New Technology Enterprise
-Children's National Medical Center
-Discovery Logic, A Thomson Reuters Business
-FLC Mid-Atlantic Region
-Foundation for Advanced Education in the Sciences (FAES)
-German Academic Exchange/Research in Germany
-Institute of International Education (IIE) / Council for International Exchange of Scholars (CIES)
-Kauffman: The Foundation of Entrepreneurship
-Keck Graduate Institute of Applied Life Sciences
-Leavy, Frank & Delaney, LLC
-Maryland Technology Development Corporation (TEDCO)
-MedImmune, LLC
-Michelin
-Montgomery County Department of Economic Development (DED)
-National Institute of Standards and Technology (NIST)
-National Postdoctoral Association
-National Research Council of the National Academies
-Naturejobs.com
-Naval Research Laboratory
-Oak Ridge Associated Universities
-Rockville Economic Development, Inc.
-Technology Security Associates, Inc.
-The CNA Corporation
-The Henry M. Jackson Foundation
-U.S. Patent and Trademark Office (USPTO)
"The Postdoc Conference allows scientists, engineers and others to discover new opportunities and offers a venue for employers to meet highly talented people. I first attended the event as a postdoc and found my current job, not even knowing ones like it existed" says Ziggy Majumdar, Ph.D. who now works at Booz Allen Hamilton. "It is a great opportunity for networking and to learn from people that have been in your shoes searching for a satisfying career path. I highly recommend the conference and career fair for job seekers, employers and Ph.D.'s interested in learning about a wide variety of career paths."
The Postdoc Conference and Career Fair is organized by a group of volunteers from federal and university laboratories, local businesses and economic development organizations. Companies interested in participating in the career fair should register at
www.postdocconference.org
. Recruiting booths cost $650; sponsorship opportunities start at $750. Special rates for small companies are also available. Registration for postdoc attendees will open on March 17, 2014.
About the Postdoc Conference & Career Fair
The Postdoc Conference & Career Fair has taken place for the past seven years and provides networking opportunities for more than 450 postdoctoral fellows in the science, technology, engineering and math (S.T.E.M.) fields. Attendees of the conference are actively seeking employment, particularly in the Greater D.C. Metro region. Participating companies, federal agencies, and academic institutions return annually to this event because they have successfully hired and retained excellent employees through the career fair.
About Universal Technical Resource Services, Inc. (UTRS, Inc.)
Universal Technical Resource Services, Inc. (UTRS), headquartered in Cherry Hill, N.J., and with offices throughout the U.S. and internationally, provides a wide range of leading-edge scientific, engineering, information technology and communications services to the public and private sectors. UTRS is always thinking forward to deliver the most creative, high quality, technology-based, and communication services and solutions to our customers on time and within budget.