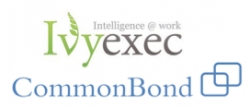 New York, NY, March 06, 2014 --(
PR.com
)-- Ivy Exec and CommonBond are pleased to announce that David Klein, CommonBond CEO and Co-founder, has joined The IvyExec.com Mentor Network as the Ivy Exec Featured Mentor for March. David Klein will offer career advice during a live interview on March 20, 2014. An audience member will be selected for a one-on-one mentorship session with David Klein following the interview.
CommonBond is a student lending platform that connects student and graduate borrowers with individual and institutional investors, offering low cost loans, providing best-in-class service, and powering social good through the company's Social Promise. Leveraging his broad experience at premier U.S. companies (American Express and McKinsey & Company) and his personal experience with the student loan process during graduate school, Klein started CommonBond in 2011 with co-founders, Michael Taormina and Jessup Shean.
"We are thrilled to welcome David to the Mentor Network as our Featured Mentor for March," said Elena Bajic, CEO of Ivy Exec. "During a live interview later this month, David will share his perspective on how to make a successful leap from the corporate sector to the start-up world. As a former manager at some top U.S. companies, David has a unique vantage point that can help professionals transition to the start-up world with greater confidence."
"I'm honored to be a Featured Mentor and excited to connect with Ivy Exec members," Klein said. "This mentoring program is well aligned with one of CommonBond's core values – propelling professional success – while benefiting the greater good. During the interview, I plan to share lessons I've learned from my own career journey, and discuss some of the exciting things happening at CommonBond. We're a fast-growing company in a fast-changing industry. We're working to reach as many students and graduates as possible to provide a better student loan experience – grounded in savings, simplicity, and social good."
For more information about Ivy Exec, please visit www.ivyexec.com, or contact Sandia Trent at sandia@ivyexec.com.
For more information about CommonBond, please visit www.commonbond.co, or contact Kaitlin Butler at kaitlin@commonbond.co.
About Ivy Exec and the Ivy Exec.com Mentor Network
As a career resource company for high achieving executives,
IvyExec.com
provides world class career building and job seeking resources. A strategic focus on expanding intra-community networking is driving product and service development efforts. As a technology enabled recruitment firm, Ivy Exec.com offers companies customized search solutions, helps companies tap top talent from its proprietary member database, and provides clients with unique opportunities to publicize their employment brands to a highly engaged audience.
The IvyExec.com Mentor Network features a roster of over 500 mentors worldwide who bring an average of 20+ years of experience in over 20 industries to program participants. Network mentors help Ivy Exec members think through significant career challenges and how to capitalize on them. The breadth and professional impact of this program is unique within the industry.
About CommonBond
CommonBond is a student lending company that provides a better student loan experience through low rates, personal service, and a strong commitment to community. Founded with a spirited social mission, the company launched in November 2012 at The Wharton School of the University of Pennsylvania, and after raising over $100M in September 2013, expanded to 25 MBA programs. The company is expanding to law, medical, and engineering degrees in early 2014. CommonBond is the first company to bring the "one-for-one" model to education and finance through its "Social Promise." For more information on CommonBond, visit
www.commonbond.co
.