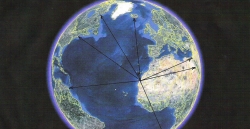 Arlington, TX, March 07, 2014 --(
PR.com
)-- An ancient science has just been re-discovered which is destined to change the way man looks at his past. The newly discovered science named "Geoglyphology" is able to track ancient man's movements by the geoglyphs which they left behind to mark their territories.
The name Geoglyphology is derived from the method which the ancients marked their territories. Through designs, (glyphs), on the earth, (Geo), ancient man designated the territory which his culture considered their own.
This was accomplished by placing geoglyphs (markings) on the ground which pointed in the direction of another geographical point which would designate the end of that particular line. The ancients developed universal protocols which were passed down and used for over 26000 years to designate where the end of the lines, which extended from the source, were to terminate. By connecting the end point of all the lines extending from the geoglyph, the territory claimed by the originator of the geoglyph could be determined.
(The Faram Research Foundation - www.thefaramfoundation.com)