View the Nudist Resort Photos and Links Posted by The Terra Cotta Inn, Palm Springs, California That Facebook Banned
Facebook's slogan is "Facebook helps you connect and share with the people in your life." That may be true, unless you have a popular skinny dipping Facebook Page.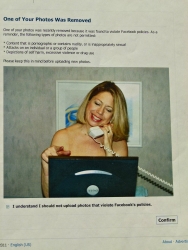 Palm Springs, CA, March 11, 2014 --(
PR.com
)-- A Roper survey uncovered that 40 million American adults have gone skinny dipping in mixed company or roughly 1 out of every 4 people. Forbes Magazine has reported that nude vacations are one of the fastest growing trends in the travel industry. People are always looking for more information as topless and nude sunbathing is on so many travelers bucket lists and in their vacation dreams.
Facebook promotes their company saying "Whatever you're into, there's a group for you." "Facebook would seem to be the perfect social media site for folks to learn more about nude recreation. But, it's not true as far as nudist and naturist groups are concerned," says Tom Mulhall owner of The popular Terra Cotta Inn Clothing Optional Resort and Spa in sunny Palm Springs, California
http://sunnyfun.com
Recently, groups such as The Terra Cotta Inn, Palm Springs, California; NUSA Sun; Young Naturists and Nudists of America; The Nudism and Naturism Daily News; All Nudist; Australian Naturist News; the famous photographer Spencer Tunick, and many, many more Facebook pages have been censored, banned, or deleted.
Terra Cotta Inn has been pampering guests from around the world for 19 years. Featured and recommended in USA Today, the New York Times, Los Angeles Times, Chicago Tribune, ABC, NBC, and CBS, Huffington Post and much more, they are very well respected.
The local Palm Springs newspaper, The Desert Sun in November, 2013 gave them a "Best of the Valley" award for being the best boutique hotel in the whole Palm Springs area. Tom Mulhall, the owner with his wife Mary Clare is even a past President of the Palm Springs Chamber of Commerce. Terra Cotta Inn is a very nice nude sunbathing resort that AOL Travel has recommended as perfect for couples trying topless and nude sunbathing for the first time.
Yet, Facebook has banned Tom and Terra Cotta Inn's Facebook page,
http://bit.ly/TerraCottaInnFBPage
numerous times for linking to or posting "obscene" or "pornographic" stories or photos.
Now, you too can view these banned links and photos and judge for yourself.
For instance, The Guardian, one of the most respected newspapers in the world wrote an article about how people over the age of 50 are feeling comfortable in their bare bodies. It was a good article presenting survey results, interviews, etc. The most "obscene" photos shown were bare shoulders and faces. Yet, Terra Cotta Inn received a ban for sharing a link to this story.
"We supposedly posted a 'pornographic' photo of my bare shoulders on The Terra Cotta Inn Facebook page and received a 'time out' from posting for uploading it. If I wore a sundress to church, I would be showing more bare skin than was in that photo. And I would be appropriately dressed," says Mary Clare.
"I believe Facebook is trying to make an example of us because we are the most popular Facebook nudist page," says Tom.
The latest photo that currently has Tom Mulhall banned from posting for 30 days is a photo of their manager holding cards. Tom explains, "Again, this photo would be acceptable anywhere else in America, but apparently not on this social site.
"It appears to me that Facebook is trying to protect everyone from not only nudist resorts, but also breast feeding pages, breast cancer sites, artists and art museums, even funny cartoons in the New Yorker even though these are 100% legal activities and Facebook pages can be set to 18+.
"And there is no one in customer service I can contact, to help me when Facebook censors our photos and stories. Most messages I send go unanswered.
"Even the New Yorker faced the same communication problem when they had a funny cartoon banned. They had to publish a funny story about Facebook censorship to get unbanned.
"It's very frustrating to us being a small business and Facebook advertiser when we are banned and are unclear as to the reason.
"Facebook pages such as the Sports Illustrated Swimsuit page show more bare skin than we do, yet I feel we're censored because we're nudists and they're not. Obviously if bare shoulders and more are fine on the Sports Illustrated page, then how do our more conservative photos violate Facebook community standards?"
Contact
The Terra Cotta Inn Clothing Optional Resort and Spa
Tom Mulhall
1-800-786-6938
http://sunnyfun.com

Contact
Multimedia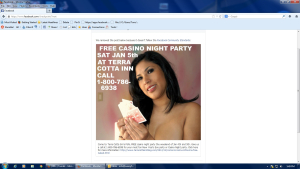 Swimsuit and clothing company models bare way more skin than this photo shows. Yet, they conform to community standards whereas this model is obscene because she's advertising for a nudist resort?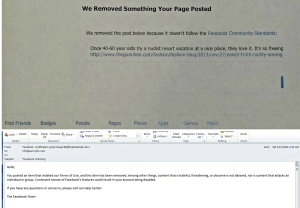 The link to The Guardian story was banned by Facebook as they considered it obscene even though The Guardian is one of the most respected publications in the world.