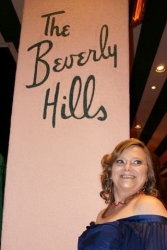 Sarepta, LA, March 10, 2014 --(
PR.com
)-- Renée by Renée was a guest of "Beat Liver Tumors" Co-Founders Suzanne & Ronnie Lindley from Canton, Tx. to an "Invitation ONLY" dinner served at the Beverly Hills Hotel filled with celebrities during "Night of 100 Stars", Oscars Sunday night. Renée designed each necklace set to coordinate & compliment specific Dalia MacPhee gowns.
Renée by Renée has grown in jewelry design popularity over the past 12 months with other such events being her debut as an Emerging Premiere Jewelry Designer during Plitzs Fashion Week, New York City, Sept. 7, 2013 at Park Central Hotel, in Manhattan, where she showcased 25 designs for both men & women.
Renée by Renée "Uniquely Designed Jewelry" caught the eye of a Los Angeles production company in Nov. 2012, receiving an invitation for participation in a gifting lounge honoring award winners and nominees of the Golden Globes in January 2013, where her jewelry was an instant success.
This opened the door to showcase in Washington DC, Cannes, France, (during the Film Festival) and most recently, two Fashion Shows in NYC, one in New Jersey and now The Oscars Dinner. She has also just received and accepted an invitation to showcase her jewelry in a Washington DC Fashion Show July 13, 2014.
She has been asked and is beginning her career designing for a NYC designer of couture gowns and dresses to be published in her International catalog, as well as sold by boutiques in NYC, Beverly Hills and Paris, France, with the possibility of NOW designing for the Dalia MacPhee line of evening gowns in Los Angeles, California.
Erica Dasher, actress in "JoAnne by Design", Ali Fedotowoski," NBC First Look", Chinese actress Bai Ling, and Margie Barron, from " Entertainment Today" are just a few of nearly 300 celebrities who own jewelry from Renée by Renée , each selecting their favorite "One of a Kind" necklace sets from a vast array of "One of a Kind" choices.
Lawrence Davis, LA Splash Magazine, Owner/Publisher/Editor-in-Chief, in his comments for Splash Magazine following the Golden Globes, stated "Uniquely Designed Jewelry lived up to its name with a table full of jewelry that looked not only one of a kind, but also as beautiful as anything you could put around your neck." One month later, as a vendor during Plitzs Fashion Week NYC in February 2013, Renée was advised to "Brand" her jewelry with the name Renée by Renée being suggested and accepted.
Renée Howard, a native of Louisiana, has been a Registered Nurse since 1980, and is a self taught jewelry designer. She ensures each piece is not only beautiful and "One of a Kind", but must also "pop" with color, as if saying something. Every unique jewelry design must also be versatile enough to wear for most any occasion.
Renée guarantees each quality piece has the characteristics of beauty, "Uniqueness of Design", craftsmanship and fashion deserving of the brand Renée by Renée.
For more information please visit her website at www.ReneebyRenee.com. Select the "Jewelry Shop" tab at the top. Also, become a fan at www.facebook.com/1uniquelydesignedjewelry.