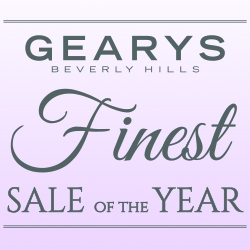 Beverly Hills, CA, March 12, 2014 --(
PR.com
)-- Beginning on Friday, March 14, 2014, GEARY Beverly Hills will be hosting "GEARYS Finest Sale of the Year" – an annual event for their loyal clientele that draws crowds from around the world to the flagship boutique in search of the finest in breathtaking jewelry, handcrafted dinnerware, precision timepieces, and elegant gifts for any occasion. Every year, their devoted clients line up along Beverly Drive prior to the store's opening in anticipation of the event. This year, GEARYS will open their doors to the general public on Friday, March 14th with the opportunity to save up to 80% off regular prices at the sale so grand it only happens once a year.
For more information about GEARYS Finest Sale and the private red carpet preview days, please visit GEARYS.com.
About GEARYS Beverly Hills
As a Beverly Hills tradition for more than 80 years, GEARYS has assembled an unrivaled collection of the most exquisite and attainable luxury brands from around the world including fine china, crystal, silver and gifts, as well as some of the most sought after names in fine jewelry and watches. GEARYS also offers an impeccable Gift Registry program tailored to provide dedicated personal assistance and unparalleled convenience. The company continues to deliver service rooted in tradition and driven by innovation, further defining the renowned client experience that has solidified GEARYS as a Beverly Hills tradition since 1930.