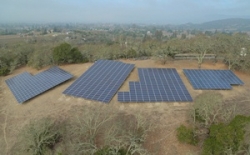 Novato, CA, March 13, 2014 --(
PR.com
)-- The solar electric system is ground mounted on a hillside above the golf course. It consists of 870 high-efficiency solar panels spanning a total of 17,610 square feet. The system's solar electric panels are expected to generate approximately 363,000 kilowatt hours of energy annually. Excess power generated during the day is banked by PG&E for credit towards future use.
The new solar power system allows Napa Valley Country Club to generate enough electricity each day to power over 57 average homes. It will spare the air nearly 105 tons of harmful greenhouse gases annually. Over the next 30 years, the air pollution saved will be equivalent to eliminating more than 6 million miles of driving.
The Napa Valley Country Club will enjoy free energy from the sun and thousands in utility savings many decades to come.
About Napa Valley Country Club
Napa Valley Country Club is the only entirely private country club in Napa County. Nestled in the hills of the Napa Valley this 6,148-yard, par 72-layout rolls through the countryside in grand fashion. The original front nine fairways were cut out of tall grass with wild oats as rough in 1917 by a group of Napa Valley businessmen. The back nine was completed in 1990, designed by Ronald Fream. Gorgeous scenery, an abundance of wildlife, and beautiful natural surroundings make a round at Napa Valley Country Club seem more like a stroll through a nature wonderland.
SolarCraft is one of the most trusted and experienced solar energy contractors in California. Since 1984, this certified Green Business has been providing high quality solar electrical, solar pool heating and solar water heating services to homeowners and businesses, employing licensed and certified solar installers. With more than 5,000 satisfied customers and over 2.5 million square feet of solar collectors installed, SolarCraft is committed to Quality Design, Quality Materials and Customer Service.
For more information, visit
www.solarcraft.com
.