Balfour Beatty Construction Wins Sustainability Circle of Excellence Award from Waste Management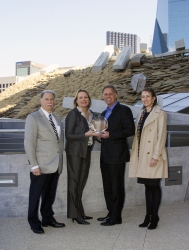 Dallas, TX, March 14, 2014 --(
PR.com
)-- Yesterday, Waste Management awarded Balfour Beatty Construction the 2013 Sustainability Circle of Excellence Award, a recognition given to the top customers in the construction industry whose various projects achieved outstanding sustainability milestones. This is the third year in a row that Balfour Beatty has been so recognized.
In a ceremony held at the landmark Perot Museum of Nature and Science, Jane Sumner, VP Construction for Waste Management, presented Balfour Beatty Construction CEO Mark Layman with the prestigious award.
Layman stated, "I accept this award with gratitude on behalf of the Balfour Beatty Construction people who really made this possible. Their dedication and commitment to sustainable building and environmental responsibility are evident every day on our jobsites across the country. We consider Waste Management to be a valuable and strategic partner in our efforts, and that partnership has resulted in a 70% waste diversion rate from landfills. With their help, we intend to do even better in the future."
In her remarks, Ms. Sumner noted that construction waste totals about 143 million tons in the U.S. waste streams each year amounting to approximately 40% of the total waste inside landfills. Only 25% of that quantity is recycled. "That's a huge opportunity to do better," she said, "and it's a testament to Balfour Beatty for executing so many projects such as the Perot Museum with such attention to green building practices."
Called "the boldest piece of modern architecture to hit Dallas" by the Dallas Morning News, the Perot Museum was an appropriate venue for the award presentation. Built to Leadership in Energy and Environmental Design (LEED) Gold standards by Balfour Beatty Construction, both the building and the landscape are models of sustainability features.
About Balfour Beatty Construction Services US
An industry leader for more than 80 years, Balfour Beatty Construction Services US provides general contracting, at-risk construction management, and design-build services for a wide variety of markets, serving clients in both the public and private sector. With more than 3,000 employees across the U.S., the company has been cited as a Top 10 Green Builder by Engineering News-Record. The company is part of London-based Balfour Beatty plc, a global infrastructure services business operating in more than 80 countries, with a worldwide commitment to providing assets that help societies function, develop, and thrive. To learn more about the company, visit www.balfourbeattyus.com or look for BalfourBeattyUS on Facebook, Twitter, and LinkedIn.
Media Inquiries:
Dianne Clifton, Communications Director
p: (214) 451-1003
e: dclifton@balfourbeattyus.com
Contact
Balfour Beatty Construction
Christine Anderson
(214) 451-1292
www.balfourbeattyus.com
Local Media Inquiries:
Dianne Clifton
Communications Director
(214) 451-1003

Contact