PerfectStreak.com to Pay $100,000 for a "Perfect Bracket" in 2014 NCAA Men's Basketball Tournament
Any PerfectBracket® contest participant picking all 63 winners will get a $100,000 win.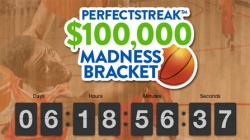 Dallas, TX, March 13, 2014 --(
PR.com
)-- Online fantasy sports website PerfectStreak.com today announced a PerfectBracket contest that will award a $100,000 prize to any participant picking the winners of all 63 games in the upcoming 2014 NCAA Men's Basketball Tournament.
It costs only $5 or $10 to enter the PerfectBracket contest, depending on which bracket is entered. If no one in the bracket selects all 63 winners, then the winner of the bracket wins the all-cash pot. The size of the pot will depend on the number of participants.
People 21 years old and older wishing to enter the PerfectBracket contest may do so by visiting either of these two links:
· For the $10 game:
https://perfectstreak.com/98715
· For the $5 game:
https://perfectstreak.com/98729
To participate, brackets must be selected by 11:45 am EDT on Thursday, March 21, when the first games of the 2014 tournament tip off.
In addition to the PerfectBracket contest, PerfectStreak.com offers DailyStreak® and QuickRank® contests on an ongoing basis in a variety of major professional and college sports. Unlike conventional fantasy sports games, which require a participant to go through the time-consuming process of drafting a team comprising several players and then waiting until the end of the sport's season to determine a winner, DailyStreak and QuickRank games last only one day, involve no spreads, and do not require participants to draft individual players. Instead, participants simply pick the teams they feel will win that day's games. At day's end, the participant with the best record wins the all-cash pot. The size of the pot is determined by the number of participants.
People 21 years old and older wishing to participate in DailyStreak or QuickRank contests may do so at perfectstreak.com.
PerfectStreak.com is a 100% legal website that falls under the "Sweepstakes Exemption Law". The UIGEA (Unlawful Internet Gambling Enforcement Act) of 2006 specifically defines fantasy sports contests, such as the ones conducted by PerfectStreak.com, are "games of skill" and hence legal. The website provides instant cash payouts, and a 100% "First Time Deposit" bonus on all deposits of $20 or more. Thousands of dollars are at stake each and every day.
About PerfectStreak.com
PerfectStreak.com, LLC was formed in the spring of 2010 with the vision of revolutionizing the online sports fantasy industry. Motivated by the ever-growing passion for sports, PerfectStreak.com worked diligently to provide a 100% legal and fun twist on fantasy sports contests. Rather than having to wait an entire season for the potential to win prizes, PerfectStreak.com offers daily contests in which a winner is crowned that very same day! In addition, instead of simply playing fantasy sports, PerfectStreak.com allows participants to pick any major sport match-up. Over $50,000 worth of prizes are awarded monthly.
Media contact:
John Pohl, 14th Floor Solutions, LLC
847.812.2879
jpohl@14thfloorsolutions.com
Contact
PerfectStreak.com
John Pohl
847-812-2879
www.perfectstreak.com

Contact