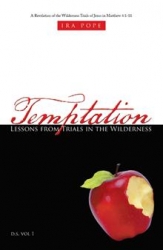 Cincinnati, OH, March 14, 2014 --(
PR.com
)-- Author Ira Pope is a firm believer that all people can overcome their temptations, no matter what they are, if they have a strong and passionate faith in Jesus Christ. He aims to equip readers to successfully battle temptation through his new book, "
Temptation: Lessons from Trials in the Wilderness: A Revelation of the Wilderness Trials of Jesus in Matthew 4:1-11
" (published by WestBow Press).
Pope begins his book, the first of a planned discipleship series, by discussing the trials of Jesus in the wilderness following Jesus' baptism. Pope illuminates numerous passages from the Bible, noting the ways in which Jesus managed to avoid succumbing to temptation through His faith. True faith, according to Pope, comes by learning the loving paternal nature of God's character toward each and every person, which he says reveals that all people can and should become born-again Christians. As God's faithful children, redeemed by the sacrifice of Jesus, we have been given extremely powerful "sonship" life benefits.
"You can win the battle over temptation in your life and you can learn to walk with God in the very same way Jesus walked with God, the disciples walked with God and Abraham walked with God," Pope writes. "You too, born-again Christian believer, can and will do the works that Jesus did and greater works than His, if you so believe."
It is Pope's intention for his book to spread the revelation that learning the truth of God's character through reading the bible with that intent, creates optimum faith in God. This trusting confidence enacts the Heavenly Father's divine power to work by the Holy Spirit through His children's faithful declarations, manifesting God's kingdom truth. This is how the Holy Spirit helps us to overcome the many temptations faced in life, big and small. Pope also hopes to promote a stronger sense of victory through the Lord Jesus and freedom in the kingdom of God on earth in readers' lives.
"Prayerfully, this little book will help change billions of hearts," Pope decrees, "and will encourage, equip and empower people to become born-again believers, and to realize, embrace and faithfully enforce the truth of God's love and Spirit in them."
"Temptation: Lessons from Trials in the Wilderness"
By Ira Pope
Hardcover | 5.5 x 8.5 in | 132 pages | ISBN 9781490822075
Softcover | 5.5 x 8.5 in | 132 pages | ISBN 9781490822068
E-Book | ISBN 9781490822662
Available at WestBow Press, Amazon, Barnes & Noble
http://www.TemptationBook.com
About the Author
Ira Pope was born in 1974 in Cincinnati, OH, USA. He claims his time as a collegiate and semi-professional athlete tested his faith in God and helped make it what it is today. "Temptations: Lessons from Trials in the Wilderness" is his first published book. Portions of the work is derived from various question and answer sessions, which account for some conceptual repetition.