Consumers Now Able to Quickly Locate All Professionals Needed for Real Estate Transactions and Anonymously Compare Best Quotes on New Reverse Auction Website
RateBid.com, now out of initial BETA testing and with a provisional patent filed, introduces people to mortgage lenders, real estate agents, and home inspectors in a unique way. The site requires visitors to complete a short form without disclosing any sensitive data. Loan officers, real estate agents, and home inspectors are then encouraged to engage into "bidding wars" between each other. Consumers stay anonymous while they watch the competition and decide who they want to follow up with.
Kansas City, MO, March 16, 2014 --(
PR.com
)-- A new website,
RateBid.com
, is a reverse auction platform with no "winning bidder." Consumers anonymously fill out request forms that normally take about 30 seconds to complete, while professionals bid for the business. Categories include mortgage rates, real estate agent commission rates, and home inspection rates. The website allows consumers to get a collection of competitive rates before they buy, sell, or refinance a home on one website without receiving sales calls.
This website requires professionals to manually tailor every bid after reviewing each customer's specific scenario, as well as competitor bids, often resulting in entertaining "bidding wars" between professionals that place downward pressure on rates. Each bid shows the professional's email address, phone number, experience level, website, and feedback rating to the consumer, which allows professionals to compete on more than just pricing. Consumers anonymously evaluate all bids and can contact professionals with the most appealing bids at their convenience, avoiding sales calls, emails and uncomfortable negotiations.
Founder and president of RateBid.com, Blake Alexander, is a licensed mortgage loan originator. "Upon entering the home mortgage industry in 2009, I was surprised to learn that mortgage interest rates are extremely negotiable," he says. "I realized that I could quickly provide a borrower with a pretty comprehensive quote on rate, fees, and mortgage insurance over the phone by making a few assumptions based on a borrower's knowledge. My borrowers loved being able to get a general idea of how competitive I was without disclosing sensitive information, spending the time to fill out an entire loan application, or negatively affecting their credit scores by creating another inquiry on their credit reports."
During the summer of 2010, Alexander was forced to compete with another lender's offer on a $250,000 loan, eventually getting supervisor approval to reduce the rate from 4.75% to 4.25% to earn the client's business. In the end, the customer will save around $27,000 over the life of the loan just because he got one lender to compete. "Imagine if he would have let ten compete…or twenty?" says Alexander. "That was when I decided that somebody needed to create a place that not only lets lenders compete right in front of each borrower, but to also allow the lenders to see each others offers." From there, Alexander began his quest to build the website and to include real estate agent and home inspection fees as categories.
Using RateBid.com is free. Alexander says the benefit to consumers who use the site is "they can quickly zero in on the professionals that can offer the best rates for basically any service you'll need before you buy, sell, or refinance a home, while avoiding sales calls." Alexander also sees a benefit to professionals, saying that the site "provides them free leads and the ability to see what their competitors are offering." He said that his team is currently testing this model on other categories outside of the real estate industry.
Contact
RateBid.com, LLC
Blake Alexander
1-855-728-3243
https://www.RateBid.com
573-999-6460

Contact
Multimedia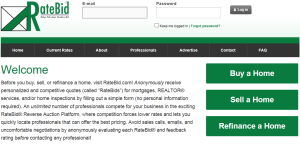 Image shows a picture of the current homepage design in HTML5 with three simple choices for consumers (Buy a Home, Sell a Home, Refinance a Home)