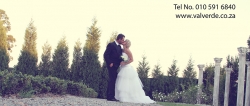 Johannesburg, South Africa, March 24, 2014 --(
PR.com
)-- No one wishes it but the reality is that statistically 1 in 10 weddings gets cancelled
You think this can never be you...
... yet statistics show that over 10% of weddings with venues booked and paid for get cancelled! (based on over a 1.000 weddings hosted at Valverde Country Hotel valverde.co.za/weddings/wedding-venues/)
Here are the 4 most common reasons
1. The relationship is not as bulletproof as you thought and one of you calls it off.
2. One of you is ill or injured on the day of the wedding (imagine hopping down the aisle on crutches!)
3. One of you loses your job or have financial challenges and you can't afford the wedding anymore. So you rather wait to have the perfect wedding in a few years' time.
4. You are unhappy about the service received and decide that you would rather lose your deposit than deal with people who don't give your special day the importance it deserves.
Pamina Valverde, author and owner of Valverde Country Hotel and wedding venue, explains: "Most couples suffer a big financial loss, over and above the emotional trauma. We have explored various options to mitigate these factors, and here's what we have come up with. From a relationship point of view, we recommend that all couples planning to get married attend a relationship course and marriage counselling.
"This might be the best free advice couples ever get from us. And from a financial point of view, we give couples a full refund on their wedding deposits up until 9 months before the big day! Moreover, at Valverde the deposits both for the venue and our recommended suppliers are refundable for an additional 30 days after a couple decides to book."
Pamina goes on to explain that even though the average 10% still cancels or postpones their wedding, couples can now do this without facing a financial catastrophe.
To make things even safer, Valverde works with a wedding insurance company that offers additional optional cover in case the couple or important members of the wedding party cannot attend the wedding due to illness or injury.
Pamina says: "Once we start working together, we know you will love Valverde as much as we do. But if something unexpected should happen, we don't want to make your unhappiness even bigger by being the cause of great financial distress at the worst possible time... The 9 months' deadline is easy to remember: It's like having a baby. Once you're pregnant, there's no going back."
What an innovative idea to keep clients happy and safe. Having hosted over 1.000 weddings, Valverde has become one of the leading wedding venues in Gauteng, and the only one offering a money back guarantee on wedding deposits.