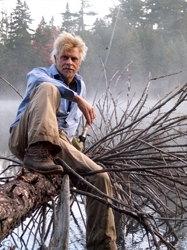 High Point, NC, March 24, 2014 --(
PR.com
)-- Adirondack Artist and designer Barney Bellinger and the Old Hickory Furniture Company are collaborating on new exclusive designs to debut this spring at the High Point Furniture Market. Featured at the Market will be two original furniture designs and a limited-edition giclee fine art print on canvas in a Bellinger-designed Old Hickory frame. They will be on display at the Old Hickory booth 1-726 in the Made in America Pavilion in the Suites at Market Square.
Bellinger's designs are built from organic and reclaimed materials with his whimsical take on form and function. They bridge the gap between fine art and everyday utility, incorporating bent wood, hand-painted scenes, textured twig mosaic patterns and hickory split bark. The quality and style are consistent with the heritage and craftsmanship that have been a hallmark of Old Hickory for over 115 years.
"Barney will distinguish us with his outstanding creativity, talent and our shared passion to see Old Hickory Furniture Company continue its leadership position as the premier furniture company for rustic design," says Bob Morrison, Vice President of Sales and Marketing, Old Hickory Furniture. "We are proud to have this relationship with him."
"It's an honor to be part of this great American company," says Mr. Bellinger, "and to be able to add my aesthetic to their historic legacy is nothing short of inspiring. Old Hickory has a timeless quality that has endured without losing any of the authentic ideals of its past successes. It's a huge challenge to create new ideas that continue in this spirit and to design original pieces that Old Hickory customers will be proud to own and pass down as family heirlooms for years to come."
About Barney Bellinger:
Based in Mayfield, NY, Barney Bellinger is both a painter and a furniture artisan. He experiences the beauty of natural light and changing seasons in remote, natural landscapes from the Adirondacks to the American West, foraging for raw materials to study natural forms and color. Inspired by his keen observation of these wild, quiet places, Bellinger creates intricate designs that require a mastery of multiple artisanal techniques. He says, "I do not paint to please critics, but rather to record my travels. Painting for me is a privilege." Mr. Bellinger has been exhibited at the National Museum of Wildlife Art, the Adirondack Museum, and appears in the permanent collections of the Orvis Company and the Smithsonian Institution. His work is also widely sought after and collected privately.
About Old Hickory Furniture Company:
Old Hickory Furniture Company has long been recognized as the leading manufacturer of rustic furniture in the United States. It was founded in Indiana in 1899, and today its headquarters and primary manufacturing plant remains in the state, in the town of Shelbyville. Old Hickory customers are among the best known hotels, lodges, resorts, and restaurants in the country, including Old Faithful Inn, Great Wolf Lodges and many more. Leading retailers throughout the US offer an extensive collection of Old Hickory furniture for every room in the house. The complete line of products can be viewed at www.oldhickory.com.