Buying Glasses Online Tips from Ozeal: Most Popular Glasses Among Its Customers
There are many best sellers when it comes to designer glasses, popular frame style, frame shapes and frame materials at Ozeal. Here comes the tips for buying glasses online.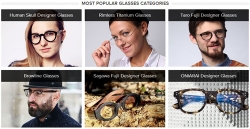 New York, NY, March 29, 2014 --(
PR.com
)-- For people who are looking for popular eyewear frames or lenses, Ozeal glasses online store may be a good choice. Ozeal will not only offer its customers tons and tons of frames and lenses to choose from according to the shape, size, material and manufacturer, but also provide high quality and standard frames and glasses at the affordable prices.
There are many best sellers when it comes to designer glasses, popular frame style, frame shapes and frame materials at Ozeal. Everyone looking to buy new eyeglass and frames to suit their style would of course go for the
best seller glasses
and Ozeal is the place where people can find a lot of best sellers in each and every category. Here are some tips for buying glasses from Ozeal:
Popular Designer Glasses
Some of the best and the most popular designer glasses for men and women like Taro Fujii, Sagawa Fujii, Ospirit, Human Skull and Foncite are all offered in Ozeal online stores. They are quite popular for their unique designs, styles, colors, shapes and choice of materials used to design the frames. People can easily make a style and fashion statement with designer eyewear from Ozeal.
Popular Frame Materials
The most popular frame materials that are in huge demand these days are: tortoise shell and wood. Tortoise shell is most sought after by both young men and women looking for unique eyewear and Ozeal offers these frames at a wide range of colors, shapes and sizes to suit their wardrobe collection. Wooden frames offer its wearers a retro and unique look apart from offering a style quotient like never before.
Most Popular Frame Shape
The Wayfarer shape is one of the most desired fashion glasses in this day and age. It suits well not just on office goers or business people but also sits prettily on faces of college students and even school kids. The Wayfarer frame is the best seller when it comes to different frame shapes at Ozeal.
Most Popular Frame Style
It is the vintage style frames that are in most demand even in these modern times and Ozeal has a wide collection of vintage frames to suit the needs and requirements of people with different budgets. The retro style frames are in great demand and Ozeal offers the widest collection of vintage frames in various sizes, shapes and colors to suit everyone's eyewear needs.
Most Popular Frame Color
The most popular frame color that is selling like hot cakes at Ozeal is black colored frames of various sizes, shapes and designs. Black is a classic color that adds beauty and attraction in every person and is a frame that is worn for all important occasions in life. Black colored frames were, are and will always be a favorite among many men and women who are looking for fashionable eyewear. Plan to buy glasses online at Ozeal, then do not forget to take a look at the wide variety of black collection available at the online store.
Just log on to www.ozealglasses.com and check out the frames and glasses that are on offer at discount prices. For further information, please feel free to contact:service@ozealglasses.com.
Contact
Ozeal Glasses
Aaron Wang
8618622231080
www.ozealglasses.co.uk

Contact