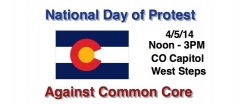 Denver, CO, March 31, 2014 --(
PR.com
)-- Stop Common Core Colorado - National Day of Protest Against Common Core
Saturday, 4/5/14 - 12PM to 3PM
Colorado State Capitol - West Steps
It will be a patriotic day.
MC - Ken Clark from Grass Roots Radio
Citizens are encouraged to take a stand and be a part of a national event that brings awareness to the dangers of Common Core. The group has Governor candidates, senators, representatives, elected officials and citizens who will speak out against Common Core and the Federal intrusion on education. The press has been invited.
They are making a statement across the nation with rallies that join together to recite the Pledge of Allegiance at the same time.
Many Speakers:
Governor Candidates - Mike Kopp (surrogate), Greg Brophy, Tom Tancredo, Ronnie Bell Sylvester, Steve House and more to confirm.
Senators and Representatives - Vicki Marble, Ted Harvey, Stephen Humphrey, Tim Neville, Steve Laffey, Justin Everette and more to confirm.
Due to very busy schedules of candidates and elected officials, schedules are subject to change.
Jamie Daniel will sing the National Anthem.
Patriotic
Family friendly
Face painting for kids
Food vendors
Informational booths
Connecting with action groups
Colorado State Capitol 200 E Colfax Ave, Denver, CO 80203 (West steps)
Free parking lot:
NE Corner of Lincoln and Colfax, across street from State Capitol - walking distance.
Contact the group for more details.
Facebook: Stop Common Core Colorado
Twitter: @amspue67
Web: www.stopcommoncorecolorado.webs.com
Rallies against Common Core will be staged across America organized by Eye On US Education (EUSE). Colorado has joined the rally in an effort to make a statement across the nation.
The date chosen is the birth date of Booker T. Washington. He was an African-American educator, author, orator and advisor to presidents of the United States, with 45 schools named after him.
African-Americans were solidly Republican in this period, having gained emancipation and suffrage with their support. Washington was on close terms with national Republican Party leaders and was often asked for political advice by presidents Theodore Roosevelt and William Howard Taft. Washington, as the guest of President Theodore Roosevelt in 1901, was the first African-American ever invited to the White House.
Washington's long-term goal was to build the community's economic strength and pride by focusing on self-help and schooling. He believed that education, black owned businesses and hard work were the keys to success. Washington raised funds to establish and operate thousands of small community schools and institutions of higher education for the betterment of blacks throughout the South. The schools that Washington supported were founded primarily to produce teachers, as he believed that literacy and education were the keys to the future.
Quotes by Booker T. Washington:
"I have learned that success is to be measured not so much by the position that one has reached in life as by the obstacles which he has had to overcome while trying to succeed." -Booker T. Washington
"There are two ways of exerting one's strength: one is pushing down, the other is pulling up." -Booker T Washington
"If you can't read, it's going to be hard to realize dreams." -Booker T. Washington
"Few things can help an individual more than to place responsibility on him, and to let him know that you trust him." -Booker T. Washington