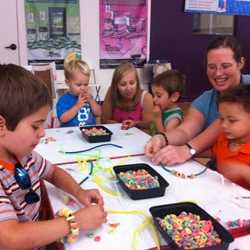 San Diego, CA, April 02, 2014 --(
PR.com
)-- Play-­To­-Learn was vying for one of ten Fedex grants alongside 5,000 other small businesses from across the United States. With the support of San Diego families, who registered almost 9,000 votes in the first round, and a compelling and innovative story and business model, Play-­To­-Learn was awarded a $1,000 grant and the honor of joining nine other outstanding small businesses in the winning group.
"FedEx is excited to support Teacher Lee with this grant so they can update their mobile classroom and restock supplies," said Rebecca A. Huling, vice president of Customer Engagement Marketing. "FedEx is always looking for new ways to support small businesses and this grant program enables us to have a direct impact on the community."
Teacher Lee Play­-To­-Learn, a fiscally sponsored project of Mission Edge San Diego, targets the 49 percent of San Diego county children who can't afford to attend conventional preschools that cost upwards of $8,000 per year. The program brings parents and children together in an developmental educational experience that helps them transform every moment of every day into a learning opportunity.
"It was a revelation to most parents in my program that they could ready their children for kindergarten on their own and do a great job...and it's fun!," said Teacher Lee. "Our program sets children up for success, not just in kindergarten, but for the rest of their lives. That is why our parents were so energized and voting was so strong."
There is both a short and long ­term impact to what Teacher Lee offers. Kindergarten readiness is the immediate goal, and that positively impacts student achievement throughout the child's school career. According to the Committee for Economic Development, "high­ quality preschool programs offer societal benefits that far outweigh program costs by improving later education, employment, earnings, and crime outcomes for students who attend preschool."
The Alliance for Quality Education provided statistics that show children who have attended preschool have a 29% better chance of getting into college. A RAND corporation study in 2008 on "The Nature and Quality of Early Care and Education for Preschool Age Children in California" estimated that high­-quality preschool for all four­-year­-olds could result in 730 fewer dropouts, 1000 fewer children held back a grade in school, and 4600 fewer child years of special education in San Diego county alone.
A Chicago study indicated that children without a preschool education are 70% more likely to be arrested for a violent crime before the age of 18 while here in San Diego county, the RAND study estimated that preschool could result in 2150 fewer juvenile petitions.
The Alliance for Quality Education summarized these benefits by stating "every $1 invested in pre-­k saves taxpayers up to $7."
Teacher Lee commented "Thanks to the generosity of Fedex, we will have $1,000 to put toward upgrading our classroom equipment."
Teacher Lee added, "children play to learn, shouldn't we all learn to play?"