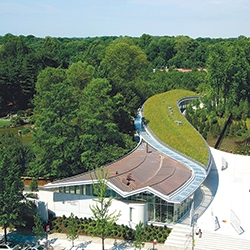 New York, NY, April 03, 2014 --(
PR.com
)-- The American Council of Engineering Companies of New York (ACEC NY) presented Weidlinger Associates, Inc., with the Engineering Excellence Empire Award, the organization's highest honor, for the firm's work on the Brooklyn Botanic Garden (BBG) Visitor Center, a unique curvilinear structure with an extraordinary 10,000-square-foot living roof. The award, which recognizes "the top-ranked project in the Engineering Excellence Program that was designed and built in New York State," was announced at the organization's annual gala in New York City's Waldorf Astoria Hotel on March 29, 2014.
Weidlinger provided structural and civil engineering services for the facility, which has garnered a host of prior accolades, including a 2014 ACEC NY Engineering Excellence Diamond Award.
"I am thrilled that ACEC New York has selected the BBG Visitor Center to receive its most prestigious honor," said Project Manager Cheng Gu. "It is extremely gratifying that a unique project of this size and scope continues to receive so much recognition from our colleagues in the engineering profession."
Designed with architect Weiss/Manfredi, the Center is a "remarkable synthesis of architecture and landscape design." Embedded in a 25-foot-high berm (which was incorporated into the design to improve thermal efficiency), the 20,000-square-foot structure blends seamlessly into its surroundings, serving as a threshold between the city and the 52-acre garden. The facility comprises a single-story retail pavilion and a double-height, leaf-shaped events pavilion, connected by a trellis-like glazed canopy.
The sinuous 320-foot-long structure varies in width along its entire length, narrowing to a point at its western tip. Its nonrepetitive design features myriad curves and includes architecturally expressed steel and concrete. A living roof garden atop the events space boasts 40,000 seasonal plants and will capture an estimated 190,000 gallons of stormwater annually. As the gardens mature and the pleated copper roof on its east side weathers to green, the building will vanish into the surrounding flora to become an extension of the landscape.
Weidlinger worked with the architects to design structural systems that overcame budgetary constraints, limited accessibility, and the unorthodox contours of both the building and the site, lowering costs by simplifying the building's geometry and reducing the cantilever spans of the roof rafters and the total weight of the steel. Construction sequencing was crucial because access was limited.
Weidlinger civil engineers designed various stormwater management strategies to keep runoff from discharging into city sewers. The site is home to 28 geothermal wells, which reduce energy consumption. Its three bioinfiltration basins filter stormwater to the adjacent Japanese Garden, lessening demand on the city's stormwater system and reducing water pollution. The project recently earned LEED Gold certification.
BBG features more than 12,000 types of plants and hosts over 725,000 guests annually. The Visitor Center is a key component of "Campaign for the Next Century," the Garden's largest renewal effort since its founding a century ago. The iconic structure houses interpretive exhibits, provides a rest stop for guests, serves as an orientation area for tourist groups, and hosts special events.
ACEC New York is the leading advocate in New York State for consulting engineers. The ACEC Engineering Excellence Award Program celebrates engineering achievements that demonstrate ingenuity and significant technical, economic, and social advancement. Entries are judged on five criteria: original or innovative application of new and existing techniques; future value to the engineering profession; social, economic, and sustainable design considerations; complexity; and exceeding client needs. For more information, visit http://www.acecny.org. To view the ACEC NY Engineering Excellence Awards press release, visit http://www.prnewswire.com/news-releases/acec-new-york-presents-2014-engineering-excellence-awards-253209041.html.
Weidlinger Associates, Inc., is a structural engineering firm that designs and rehabilitates buildings, bridges, and infrastructure and provides special services in applied science, forensics, and physical security. The firm, which employs about 300 full-time staff, celebrated its 60th year in 2009. It is recognized worldwide for its innovative and practical design solutions and for its long-term commitment to advancing the state of the art in engineering. Headquartered in New York City, the firm has branch offices in the United States and the United Kingdom. For more information, please see www.wai.com.