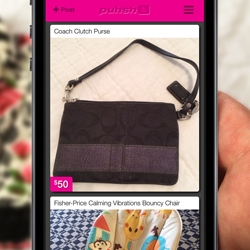 Dallas, TX, April 08, 2014 --(
PR.com
)-- Online Garage Sale Groups on Facebook are exploding from coast to coast. Parents of younger children, Fashionistas, DIYers and Sports fans are flocking to locally based Facebook groups to buy and sell their used (and sometimes new) items at huge discounts to each other. The rush away from Online Classifieds is being driven by participants who want to know the true identity of who is selling an item and the fact that those sites have been overrun with business ads and spammers.
Puhsh.com has released their iPhone App as a "Local. Social. Marketplace" which essentially takes the best parts of selling stuff locally and wraps it into a gamified, socially-based marketplace designed specifically for this quickly expanding base of used-retail connoisseurs.
The Puhsh App only accepts Facebook users that have verified accounts which allows users to see how they are connected to other members using Facebook's Open Graph to display the mutual friend connections between them. Users browse items for sale by following a City's feed. They can filter the feeds to only see categories they are interested in or search for specific items. Users can easily manage their posts, as well as items they have bid on - and receive instant notifications when something has happened.
Puhsh makes it incredibly fast to create and add new posts, and provides the ability to mark items as sold. Its very easy to place a bid for any item, with multiple pickup options including "Porch Pickup." When an offer is accepted you can send private messages to work out the item exchange details. Yet, the most addictive part of the Puhsh marketplace is that everything is tied to earning Star Points and badges, which users can later redeem for exclusive discounts as well as use demonstrate to other members that they are a trustworthy member.
The Puhsh App will revolutionize the way people sell items locally and is available for the iPhone for Free via the Apple App Store.
http://puh.sh/1my63G6
60 Second Demo Video:
http://puh.sh/1hmXvTi