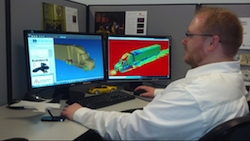 Kansas City, KS, April 10, 2014 --(
PR.com
)-- Advanced Clustering Technologies announces the release of its latest case study, done with the cooperation of Auto Research Center, which is headquartered in Indianapolis, IN.
Auto Research Center looks for ways to stretch fuel efficiencies for a variety of vehicles: from passenger cars to race cars to commercial trucks. In addition, they are running simulations to find tactical advantages for military vehicles.
Auto Research Center expanded its cluster resources in 2012 in an effort to improve run-time on simulations. The software they develop and use for ground vehicle development, called ELEMENTS, is able to take advantage of the latest in processor and interconnect technologies that included, at that time, the newest Xeon processors and 40Gb/s InfiniBand as the method for their nodes sharing and processing their data. Engineers from Advanced Clustering Technologies worked with their counterparts in architecting the optimum configuration, then arrived on-site to install it and get it ready for production. The process went very smoothly and as a result of their experience, Advanced Clustering recently completed an upgrade to this cluster.
Using this cluster and its add-on, provided by Advanced Clustering Technologies, has helped Auto Research Center see significant increases in both simulation speeds and the time it takes to get results from the jobs they submit. Since the deployment of their Apex cluster from Advanced Clustering Technologies, "uptime has been close to 100%, and if an issue arises, ACT engineers respond promptly to minimize downtime," said Jean-Michel Esclafer de La Rode, CFD Division Manager. "These were the primary factors in Auto Research Center's decision to recently purchase a cluster addition and to continue to rely on Advanced Clustering Technologies for ARC's high performance computing (HPC) needs."
About Auto Research Center
Auto Research Center is a specialized research and development facility, headquartered in Indianapolis IN, which sells time in its various test rigs (such as their wind tunnel and seven post rig) and provides design and consultancy services to government/military, commercial vehicle, automotive and racing clientele. ARC also offers scale model development, vehicle aerodynamics and vehicle dynamics capabilities and expertise, computer aided engineering software, vehicle dynamics software and computer modeling programs for the purpose of trackside simulation. ARC is a worldwide company that is committed to developing innovative solutions in the ever-changing field of transportation.
About Advanced Clustering Technologies
Formed and incorporated in 2001, Advanced Clustering Technologies is a premier provider of Apex Computing Clusters, Linux-based Pinnacle servers and Horizon workstations. With its powerful and innovative technology, Advanced Clustering provides solutions for organizations involved in all types of research including biotechnology, chemical modeling, weather forecasting, oil and gas exploration, and visual effects. Through its product lines, Advanced Clustering builds some of the fastest clusters and systems in the world.
Learn more about Advanced Clustering's line of products and services by calling 866-802-8222 or visiting www.advancedclustering.com.