DiMora Motorcar Introduces Vicci 6.2 Convertible
Combining 21st Century automotive technology with classic 1930s styling and flair, the sporty Vicci 6.2 Convertible is now on the street turning heads wherever it goes. Soon to come out is the DiMora Vicci 6.2 Coupe and to follow the DiMora Adina two seater. Original artwork and a 24-karat gold firewall adorn the first Vicci 6.2 Convertible.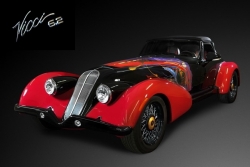 Palm Springs, CA, April 10, 2014 --(
PR.com
)-- This is the first of three new series of handcrafted, neoclassic, luxury automobiles built by DiMora Motorcar® in Palm Springs, California. It comes with the 430-hp General Motors LS3 6.2 liter V8 engine. Paired with the GM 4L65-E 4-speed automatic transmission, it powers the 2820-pound car from zero to 60 mph in 4 seconds. Four-wheel disc brakes are used to stop the Pirelli P Zero tires.
For those who want a bit more performance, the Vicci 6.2 HS Convertible has the 556-hp GM LS-A 6.2 liter supercharged V8 engine and comes with independent suspension. This is paired with the GM 4L85-E 4-speed automatic transmission or an optional 6-speed manual transmission. The convertible top for each model is made of Haartz Stayfast three-ply, tightly-woven, cloth canvas, and a removable hard top is available as an option.
The next series to be introduced will be the Adina Convertible, which takes its styling cues from the Clenet automobiles that Sir Alfred J. DiMora produced in the 1980s. It will feature the 430-hp GM LS3 engine and GM 4L65-E 4-speed automatic transmission. Following that will be the Vicci 6.2 SuperCoupe, with the same engine and transmission options as the Vicci 6.2 Convertible and HS Convertible models.
All DiMora Neoclassics models will surround the driver and passenger with luxurious Italian leather seats, English Wilton wool carpets, and fiber optic interior accent lighting. The Kenwood Excelon stereo incorporates 8-speaker sound, Garmin GPS navigation, audio-visual entertainment services, backup camera, and 360° imaging.
"At DiMora Motorcar®, we believe that craftsmanship is fundamental to making distinctive automobiles that are reliable, a thrill to drive, and a pleasure to own," noted DiMora. "We create our own composite materials such as Carbon DFD and Alurock for durability, reduced body weight, and added strength for safety. We build a four-point steel cage to protect driver and passenger. We mix our paints to match the specific taste of the individual owner. Each automobile we produce reflects our pride in what we have created."
About DiMora Motorcar
Based in Palm Springs, California, DiMora Motorcar® excels in providing distinctive, limited-edition transportation solutions. The magnificent Natalia SLS 2 sport luxury sedan is scheduled for production in 2017. DiMora Custom Motorcycles takes the passion for technological innovation and uncompromising quality that is the hallmark DiMora Motorcar label and brings it to motorcycles that are available worldwide. Sir Alfred J. DiMora co-founded the Sceptre Motorcar Company, whose Sceptre 6.6S received Best-of-Show honors at the 1978 Los Angeles Auto Show. DiMora also founded the new Clenet Coachworks, Inc. in the 1980's to continue designing and building the Clenet line of neoclassic automobiles. When President Reagan declared 1986 the Centennial Year of the Gasoline-Powered Automobile, DiMora's Clenet was selected as the Official Centennial Car, resulting in honors for both DiMora and the Clenet at the Automobile Hall of Fame in Michigan. Please visit www.dimoramotorcar.com , www.clenetclub.com or www.dimoracustombikes.com.
To purchase DiMora Motorcar® Automobiles, call 760-832-9070.
Contact
DiMora Motorcar
Robert D. Bliss
760-832-9070
www.dimoramotorcar.com
1775 E. Palm Canyon Drive #121
Palm Spring, CA 92264

Contact