"Given Our Chance" Wins Remi Award at Houston Worldfest
Alex King of A.K. Film Production and Editing and Izidor Ruckel of Ruckel International win a Remi Award at the 47th Worldfest Houston International Film Festival for their documentary "Given Our Chance."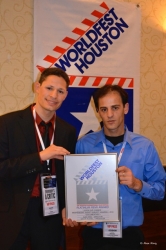 San Francisco, CA, April 16, 2014 --(
PR.com
)-- Alex King of A.K. Film Production and Editing and Izidor Ruckel of Ruckel International attended the awards ceremony for the 47th Worldfest International Independent Film Festival in Houston this past Saturday.
They were advised in March that their documentary had been chosen to win a prestigious Remi Award. Worldfest notifies the winners, however they are not told what level they have won, Bronze, Silver, Gold or Platinum, until the evening of the awards ceremony.
This year Worldfest Houston received over 4,500 entries from 33 countries. As Hunter Todd, Chairman and Founder of Worldfest said in his opening monologue, "Everyone here tonight is a winner....you are the best of the best."
The ballroom fills with excitement as Hunter reads the bronze, then the silver, the gold and then platinum Remi winners. Alex and Izidor were overjoyed when they heard "The Platinum Remi Award for Independent Short Documentary goes to 'Given Our Chance,' Alex King Director and Izidor Ruckel Producer."
"Given Our Chance" is an inspiring story of adoption. Alex and Izidor joined forces to create this documentary. Both men were adopted from Romania as children. Although they did not meet until 2012, they both shared a desire to tell their story and somehow help those children left behind.
Izidor Ruckel is an author and public speaker. He wrote his autobiography, "Abandoned for Life" in 2002. He has traveled around the United States as a public speaker, talking to groups and raising awareness for adoption.
Alex King found his voice in film. His previous feature length documentary "Born to be our Children, Romanian Adoption Stories" won a Gold Remi at the Houston Worldfest in 2011, a screening at the LA Film and Music Festival in Beverly Hills, also in 2011, and "A Rising Star Award" at the Vancouver International Film Festival 2012.
Alex and Izidor were destined to come together to help raise awareness for adoption. They hope to help the multitude of orphans in Romania and around the world who long to be "given their chance."
Information on their documentary, along with the trailer, can be found on their websites, www.akingproduction.com and www.abandonedforlife.com
Contact
A.K. Film Production and Editing
Debbie King
650 867 1951
www.akingproduction.com
Alex can also be contacted through his website www.akingproduction.com.
Izidor can be contacted through www.abandonedforlife.com

Contact