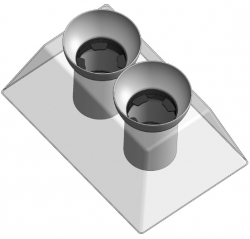 Bothell, WA, April 17, 2014 --(
PR.com
)-- The cup holders of today, be they in boats, planes or automobiles all have one thing in common- they hold the beverage in place to keep it from falling out or falling over with a stiff (or not so stiff) grip resulting in beverage to be subject to the exact same movements of the hosting vehicle. With the ubiquitous application of these in almost all vehicles today, this has obviously been proven a great idea.
With standard cup holders, everything has been done to address the potential issues that come from the beverage container itself, however, nothing has been done to address the potential issues with the fluid that is inside. The maksimatic cup holder changes everything about cup holders because it holds one's beverage from the top instead of the bottom; it works using centripetal force and is also gyroscopic which means it levels out automatically with grade changes in current terrain.
The design of the half-spherical upper half mounted atop a standard style cylinder opening of the cup holder comes with more advantages than just the prevention of spillage alone. They are also easily removed for easy rinsing which even creates an opening large enough to hold a 2 liter bottle of soda. The inside of the half-sphere allows space for ease of reach with fingers so that beverages may be acquired in the same method as a traditional cup holder with heights being adjusted by spacer weights which also make up for any potential losses in fluid weight at the bottom which allow the upper member to either glide against a removable ring or ring shaped ball bearings located along diameter of hole openings of lower member sparing the female member any wear and tear caused by friction. In addition, there are many other features and benefits.
The inventor, Maksim Ghyvoronsky who currently holds a patent for the holder lives in Kirkland, WA. He is an avid German luxury car enthusiast and inventor who has been implementing and thinking of novel ideas to better not just the automobile, but society for years. He serves as a small group leader at his local church and is married to a wife he refers to as "my greatest advocate."
The Maksimatic cup holder is still not licensed with any automobile, boat or plane manufacturers although this is Maksim's goal since he feels they make perfect sense and states that it makes our drinking and driving experience (not that kind) "much safer and more worry free."
maksimatic.com