Argentine Tango Research Suggests It's a Mental Health Boosting Activity
The suffering from stress and depression is shown to be reduced in a published study on Argentine Tango Dance and suggests that dance class can be as effective as the clinically proven UMASS Stress Reduction Clinic.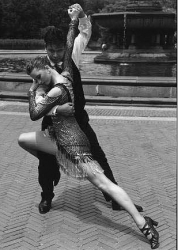 West Hartford, CT, April 19, 2014 --(
PR.com
)-- The suffering from stress and depression is shown to be reduced in a published study on Argentine Tango Dance.
Results of the research conducted by psychologist Rosa Pinniger of the University of New England in Australia suggest that Argentine Tango is "an innovative and promising approach, as effective as mindfulness meditation in reducing levels of self-reported depression."
In her findings, published in Complementary Therapies in Medicine, Pinniger et al describe a study with 66 people, with high levels of stress, anxiety and/or depression. Detailed surveys measuring emotional health at the beginning and end of a six-week period were filled out. Three groups were studied. One took part in weekly tango dance lessons. Another participated in weekly mindfulness meditation classes, based Kabat-Zinn's program at the Umass a Medical Center that was featured in the Bill Moyers Special Healing and the Mind. One group was the control group and was simply held on a waiting list.
After six weeks, those who took the tango dance and meditation classes both showed greater reductions in depression than those who did neither. But the tango class students lowered their stress more than either the meditation students or those on the waiting list.
And in something of a surprise, the argentine tango dance students reported a greater increase in mindfulness than either the control group, or those who had specifically studied the Kabat-Zinn technique. Jim Hughes,
jimhughes.org
former faculty of the Umass Stress Reduction Clinic and Hartford Argentine Tango Student under Nate Evans at Hartford Ballroom (founded by Connecticut Ballroom dance teacher, Michele Evans) says, "it doesn't surprise me, Argentine Tango is all about 'The Embrace' or how the connection is formed and how to move playfully while maintaining the feeling of The Embrace. The fundamental elements of the UMASS Stress Reduction Program are at the core of Argentine Tango and therefore, very good for one's health and wellbeing."
"I agree," says Rita, co-founder of Art Paradise
artparadise.org
, a West Hartford-based Art Education and Art Therapy Center, "it would be interesting to study our specialized Art Therapy process along side Argentine Tango and attendance to Milongas or Argentine Tango Dance events. Our clients with traumatic brain injury do both the Mindfulness Based Stress Reduction program and an Art Therapy process we created call Zen & Ink. We see amazing results and believe they are due to how our process helps clients engage Neuro Plasticity potentials..." Argentine Tango may be the next step given the results of this research. For more information about the health benefits of Argentine Tango in Hartford Connecticut and beyond go to
hartford-tango.org
or contact Nate Evans at Hartford Ballroom.
Contact
Hartford-Tango.org
Jim Hughes
860-233-3000
hartford-tango.org

Contact