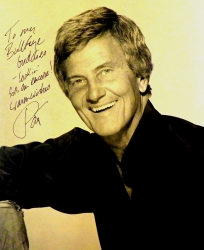 Ithaca, NY, April 24, 2014 --(
PR.com
)-- BullsEye Radio is known for it's Oldies but Goodies music all across the world wide web as well as it's social network community geared towards the over 30 crowd.
In November of 2013, BullsEye Radio added on a brand new feature onto the station that is called BullsEye Radio On TV.
Their hopes were to attempt to showcase the wonderful artists of yesteryear and remind their many listeners of where the music began.
The idea was to have a television show in which the producer (C.B.Townsley) interviews Oldies artists from years gone by, asking them about previous ventures, current ventures and future ventures. The artists take just 20 to 30 minutes of time to do a telephone interview with the producer and host C.B. Townsley under the direction of Dave Overson of Rocky Hill Connecticut Studios.
Both Dave Overson and C.B. Townsley have experience under their belt in producing a quality experience, making people feel comfortable and relaxed, and it shows in this 30 minute broadcast.
Any new projects that artists would like to discuss are warmly welcomed as well as discussion's about what it was like when they first started, inspirations for songs, their many achievements throughout their career and more.
As it turned out, the listening world was perfectly ready for such a program and warmly welcomed it with open arms. BullsEye Radio On TV is on a path of success!
One of the things that BullsEye Radio is most proud of is that they conduct themselves in a professional and positive manner and not like the typical paparazzi that looks for all the bad things they can just to make money.
BullsEye Radio treats the artist with the respect that they deserve and have earned over the many years of success.
Because of this positive attitude, BullsEye Radio is attracting legends in music!
They have been honored to so far have interviews with some legendary performers such as:
* Joe Terranova (Joe Terry - Danny & the Juniors)
* Tommy James (Tommy James and the Shondells)
* Gene Cornish (The Rascals)
* George Galfo (The Mystics)
* Gary US Bonds
* Bobby Vinton
* Pat Boone
* Florence LaRue (The Fifth Dimension)
Just some of the names so far in their short period of time on air as a television show.
Future guests they are currently talking to and setting up interviews with include:
* The Buckinghams
* Charlie Thomas (The Drifters)
* The Skyliners
* Stephen Bishop
and more . . . . .
The radio station is legally licensed through StreamLicensing.com and has been on air 7 years now playing only the greatest from yesteryear. They are on air 24 hours a day and 7 days a week playing music from the 30's to the 80's and you can access all that BullsEye Radio has to offer by going to www.bullseyeradio.com.
The television show is currently aired in 2 different states on Public Broadcast TV in Connecticut, New York, and also is broadcast worldwide for members of BullsEye Radio's website community.
They are hoping to build up an interest in this programming to get more public stations involved all across the USA and to possibly encourage businesses online and offline to sponsor the episodes.
Their success so far has been coming really fast and the owner John Michaels credits that success to good teamwork.
John Michaels quietly works behind the scenes lining up the talents and putting them in contact with the show's host C.B. Townsley, but John can be heard on air live every Tuesday and Thursday at 9:00 p.m. eastern standard time.
John Michaels has been involved in the radio & entertainment industry over the past 30 years.
On May 9th of 2013, BullsEye Radio's staff was honored to have been invited to do a 6 hour live broadcast from the historical Motown Studios (Studio A) in Hitsvilles USA, Detroit Michigan, now known as The Motown Museum.
It was a great honor according to John Michaels for them to even be in the same room where dreams were shaped and created.
Currently on BullsEye Radio On TV, they do one show per month that last 30 minutes, and the show remains on their website for all to see at anytime night or day for 30 days.
When the month is over the video is then removed and can only be accessed by executive staff of BullsEye Radio for possible future re-broadcasts.
BullsEye Radio warmly invites you to come and re-live some of the memories, hear some of the stories, dance to some of the music of a time gone by, but will forever be embedded within the heart and souls of anyone who has a love and appreciation for great music.
Visit their website today to experience a totally friendly, welcoming, relaxed environment.
Good music, good people, good conversation, state of the art design, when you want the best, aim for the BullsEye!
www.bullseyeradio.com