E-Z Rent-A-Car Celebrates 20 Years with Brand New Website and Giveaways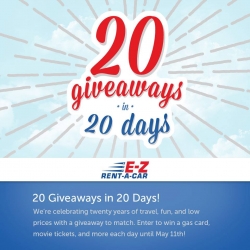 Orlando, FL, April 24, 2014 --(
PR.com
)-- E-Z Rent-A-Car has been providing travelers with the best value in current model year rental cars and customer service since 1994. This year, E-Z Rent-A-Car is celebrating its 20-Year Anniversary. They are determined to share their enthusiasm with their fans and loyal customers by kicking the year off with a brand new, user-optimized website and engaging social media campaign.
"E-Z Rent-A-Car is excited to share our new website with our customers as part of our commitment to providing the best value in car rental. Our customers have increasingly asked for a web experience they could access from any device, from anywhere. We are proud to be able to deliver this to them now," said Charlie Graham, Vice President of Business Development at E-Z Rent-A-Car.
E-Z Rent-A-Car opened its doors in Orlando, FL at the Orlando International Airport in 1994. Back when the age of the Internet was just starting to peak over the horizon, E-Z was making it a little easier for Florida travelers to get to and from the city's premiere entertainment attractions in affordable and stylish cars. What was once one location with just nine vehicles has turned into an international phenomenon with thousands of vehicles from which to choose. Despite this immense growth and expansion, E-Z Rent-A-Car has managed to maintain their small business take on exceptional customer service and satisfaction.
To celebrate their 20 years of business, E-Z Rent-A-Car rolled out a brand new, fully responsive and user optimized website in April of this year, complete with an easier, sleeker reservation system and an updated look and feel. The website has opened up to great reviews by customers who find it much easier and more enjoyable to plan their vacations from virtually any location and on any device, including desktops, tablets, and mobile phones.
In 2014, the Internet has become a driving force of virtually every action that is taken. E-Z Rent-A-Car recognizes this and plans to release a brand new and exciting social media campaign as an addition to their 20-Year Anniversary celebration. Starting in mid-April, fans and followers of E-Z Rent-A-Car will have the opportunity to participate in the 20 Giveaways in 20 Days Promotion on Facebook. Fans will enter for a chance to win great prizes such as gas cards, movie tickets, travel gear, and the much-coveted E-Z Money points by interacting on Facebook. E-Z Rent-A-Car will continue to promote this sweepstakes on Facebook, Twitter, Google+ and through e-mail campaigns until early May.
"We are excited to engage with our fans on a more personalized level through our social media websites. With every day, the Internet plays a bigger role in not only getting the word out about our brand, but creating real relationships with our loyal customers and fans. E-Z Rent-A-Car plans to role out more of these fan-engaging contests, sweepstakes, and promotions as the year goes on," said Graham.
E-Z Rent-A-Car is excited to celebrate 20 years of affordable, convenient, and exciting travel with its fans and loyal customers. Don't miss out — check out their new website at
www.e-zrentacar.com
and find them on their social media pages to keep up with great updates and affordable deals on car rentals across the United States and internationally.
Contact
E-Z Rent A Car
Charlie Graham
407-888-0504
www.e-zrentacar.com

Contact