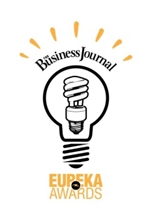 Waukesha, WI, April 29, 2014 --(
PR.com
)-- Odyne Systems, LLC, a leader in hybrid systems for medium- and heavy-duty trucks, has been named a 2014 Eureka Innovation Award winner in the second annual Eureka Awards program sponsored by the Milwaukee Business Journal, one of 40 Business Journals throughout the U.S. operated by BizJournals, a Division of American City Business Journals. Odyne's advanced plug-in hybrid electric truck systems can reduce fuel consumption by up to 50% or greater depending upon the duty cycle, lower emissions and allow large work vehicles to operate quietly at a work site, powering all attachments and tools and providing heat and air conditioning to the cab. The company holds 6 U.S. and 3 International patents and has 21 patents pending. Odyne's proprietary hybrid technology combines reliable electric power conversion, power control and energy storage technology. The system interfaces with Allison Transmission's industry leading fully-automatic transmissions, Remy advanced electric propulsion motors with industry leading power density and efficiency, Johnson Controls lithium-ion battery technology and other robust, automotive quality components. The company will be recognized at a luncheon event in Milwaukee on May 9 for its innovative design.
The company is currently installing over 120 systems on new trucks throughout North America as part of a $45.4 million award from the Department of Energy, which is being administered by the Electric Power Research Institute (EPRI). Odyne is tapping Inland Power Group of Butler Wisconsin, an Allison Transmission distributor, as its manufacturing and installation partner.
Joe Dalum, President and CEO of Odyne Systems, LLC noted, "We are excited to be named a Business Journal Eureka Innovation Award winner. Odyne has a unique hybrid system for medium- and heavy-duty trucks - the only plug-in hybrid system that interfaces with an Allison transmission and provides fuel reduction benefits both during drive time and at the work site. We are pleased to be working with Johnson Controls, another Milwaukee area company, for the battery systems and with Inland Power Group, an Allison Transmission distributor located in Butler, Wisconsin for manufacturing and installation. Together we've brought over a dozen new jobs to Southeastern Wisconsin in late 2013 and 2014. We have a passion for innovation and delivery of reliable, advanced hybrid system solutions. This award is great recognition that Odyne's technology plays an important role providing alternative energy to hard working trucks."
About Odyne Systems, LLC
Odyne is a leader in hybrid drive systems for medium and heavy-duty vehicles. Odyne's advanced plug-in hybrid technology enables trucks over 14,000 pounds to have substantially lower fuel consumption, lower emissions, improved performance, quieter job site operation and reduced operating and maintenance costs. Odyne has fielded more plug-in hybrid systems for large trucks throughout the United States than any other supplier. Odyne systems are modular and are integrated to powertrains during the new vehicle manufacturing process or are retrofit to existing truck chassis in various applications. The systems are sold and serviced through a worldwide distribution network including Altec, DUECO and Terex Utilities. Odyne has also authorized selected Allison Transmission distributors to service Odyne systems across North America. For further information, visit us at
www.odyne.com
and follow us on Twitter @Odyne.
About Allison Transmission
Allison Transmission (NYSE: ALSN) is the world's largest manufacturer of fully automatic transmissions for medium- and heavy-duty commercial vehicles, and is a leader in hybrid-propulsion systems for city buses. Allison transmissions are used in a variety of applications including refuse, construction, fire, distribution, bus, motorhomes, defense and energy. Founded in 1915, the company is headquartered in Indianapolis, Indiana, USA and employs approximately 2,700 people worldwide. With a market presence in more than 80 countries, Allison has regional headquarters in the Netherlands, China and Brazil with manufacturing facilities in the U.S., Hungary and India. Allison also has approximately 1,400 independent distributor and dealer locations worldwide. For more information, visit allisontransmission.com.
About EPRI
The Electric Power Research Institute, Inc. (EPRI, www.epri.com) conducts research and development relating to the generation, delivery and use of electricity for the benefit of the public. An independent, nonprofit organization, EPRI brings together its scientists and engineers as well as experts from academia and industry to help address challenges in electricity, including reliability, efficiency, health, safety and the environment. EPRI's members represent approximately 90 percent of the electricity generated and delivered in the United States, and international participation extends to more than 30 countries. EPRI's principal offices and laboratories are located in Palo Alto, Calif.; Charlotte, N.C.; Knoxville, Tenn.; and Lenox, Mass.