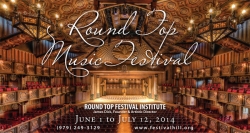 Round Top, TX, May 02, 2014 --(
PR.com
)-- Founded 44 years ago by concert pianist James Dick, the Round Top Festival Institute annually selects 95 students (from over 500 applicants) who study with master faculty and perform in the Texas Festival Orchestra.
Programs for the two dozen concerts include works by composers ranging from Beethoven, Schubert, Brahms, Tchaikovsky to Elgar, Britten, Strauss, Vaughn Williams, Walton, Bartok, Lutoslawski, and many others. Conductors include Christian Arming, Perry So, Heiichiro Ohyama, Charles Olivieri-Munroe, Pascal Verrot, Christoph Campestrini, Kenneth Woods, Linus Lerner, Ransom Wilson and Emilio Colon.
Featured soloists include James Dick, piano; Eteri Andjaparidze, piano; Stefan Milenkovich, violin; Brett Deubner, viola; Emilio Colon, cello; Erin Hannigan, oboe; Nathan Hughes, oboe; Kenneth Grant, clarinet; and Benjamin Kamins, bassoon.
Master classes and orchestra rehearsals are open to the public.
Concerts are performed in the fabled Festival Concert Hall (air conditioned, 1,000 seats.)
Tickets are adults: $20 – $30; students: $10 – $15. Free parking. Drinks and food available.
About the Round Top Festival Institute
Located in historic Round Top, Texas, The James Dick Foundation for the Performing Arts and its sole project, Round Top Festival Institute, were founded in 1971 by world-renowned concert pianist James Dick. Begun with a handful of gifted young pianists in rented space on the town square, the project is now an internationally acclaimed music institute for aspiring young musicians and distinguished faculty.
Over a forty-three year period and with the help of its patrons and friends, The James Dick Foundation for the Performing Arts has developed superb year round education and performance programs. It has also created a unique 210-acre campus – Festival Hill – containing major performance facilities, historic houses, extensive gardens, parks and nature preserves. Through its singular collection of rare books, manuscripts, archival material, music and historic recordings, photographs and objects, Round Top Festival Institute is also known as an important center for research and scholarly study.