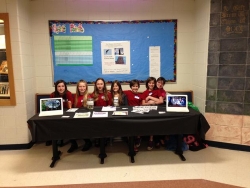 Hartland, WI, May 14, 2014 --(
PR.com
)-- Every spring for more than a decade, an estimated 1,000 Chimney Swifts have made the long return flight from their winter home in South America to a 40 foot chimney at the White Elm Nursery in the small village of Hartland, Wisconsin. This summer, unless a new nesting structure can be built before they return to roost, the endangered birds will be challenged to find a new home, and a dedicated group of HSCL students have organized to build a new habitat before its too late.
The students efforts to fund a new roosting tower for the 1,000+ birds in the nearby Ice Age Trail State Park is the largest known migratory bird relocation effort ever attempted in North America.
"When we heard that the chimney swifts home was going to be knocked down to make room for an apartment complex, we decided to take action in the community to save their habitat, and hopefully rebuild their new home in a place that will benefit the entire community," Hannah, age 11.
Prior to European settlement in the US and Canada, Chimney Swifts mainly nested on cave walls and in hollow trees in old growth forests. Today, they are more likely to be found in urban areas where they nest and roost in chimneys and other manmade structures.
With the recent modernization and demolition of old chimneys, the birds face the ever increasing pressure of habitat loss, which in large part has led to a steady decline in population and a change in status to "near threatened" in 2010 by the International Union for the Conservation of Nature.
"The kids have really shown a lot of passion, reaching out to the Hartland community and have established the Chimney Swift Roost Fund for donations to build a new habitat for the birds in time for their return," said Keleen Kaye, HSCL Teacher. "They have also set up a website and blog in support of the Chimney Swift effort-
www.savetheswifts.com
and www.hsclswifters.blogspot.com."
The students are also hosting a boat race and bake sale on May 31 at 10:00am in Nixon Park in Hartland to raise funds for the new chimney.
You can help by donating time, money and/or materials to the cause. Please make all financial donations to the the Hartland Chimney Swift Roost Fund, First Bank Financial Centre, 800 Cardinal Lane, PO Box 257, Hartland WI 53029.
About The Chimney Swift
A small bird between 4 ½ to 5 1/2 inches long, the Chimney Swift is sooty brown with long slender wings and a lighter breast. Characterized by its daring acrobatics, the birds spend most of its time in flight catching its prey (flying insects). Flocks can be heard making high-pitched chirping or twittering noises as they fly above the rooftops in urban areas. The species has suffered sharp declines as chimneys fall into disuse across North America.