The Law of Luxury: Bold & Bespoke Offers ARIDO Jewelry on Their New Website
BOLD & Bespoke is very pleased to announce that their website is now showcasing an A-List Celebrity Jewelry Designer. It is truly an honor to work with world renowned designer Arid Chappell/Jesse Raphael (founders of ARIDO).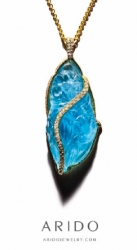 Cleveland, OH, May 15, 2014 --(
PR.com
)-- The new Cleveland-based website
boldbespokeclothing.com
has been launched and made available worldwide for those who are seeking fashion-forward clothing and accessories with an unmistakable sense of luxury and style. The BOLD & Bespoke woman knows her beauty, is a confident trailblazer, and has a passion for the art of fashion and great design.
ARIDO - Manhattan, NY- creates fine art jewelry with the highest quality gems and precious metals in the world. The company was founded by a scion of a family of jewelers dating back to the 11th century. Arid Chappell, who is also a world class celebrity stylist/fashion designer and has worked with some of the Top A-list Actresses in Hollywood. ARIDO is a company on the rise, designing custom-made, timeless pieces for an expanding and exclusive clientele. ARIDO jewelry is inspired by travel, art, nature and music. The collection includes 18K white and yellow gold with a mixture of precious stones such as sapphires, rubies, emeralds and pearls, and can be seen on a number of celebrities and international red carpet.
http://www.boldbespokeclothing.com
BOLD & Bespoke curates fashion from amazing designers on their website so clients can select your own personal style. They are always looking for creative designers that can offer something new and different for their customers. BOLD & Bespoke's goal is to offer exclusive designs for women to not only look beautiful in, but feel beautiful in. Fashion is art, and that is BOLD & Bespoke's passion. The BOLD & Bespoke boutique targets designers that only make products in the USA, and with that in mind, they strategically target certain designers and are relentless in there pursuit of quality. BOLD & Bespoke lets customers drive their business.
They look forward to continuing great relationships with there sponsors, designers, press, and all of their fans.
Media Contact/inquiries: Marlo Catalano, boldbespoke@gmail.com
Contact
BOLD & Bespoke
Marlo Catalano
(440) 339-3069
boldbespokeclothing.com

Contact