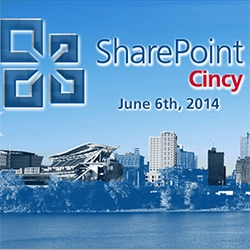 Cincinnati, OH, May 15, 2014 --(
PR.com
)-- SharePoint Cincy, a SharePoint conference of national quality with a local/regional focus is proud to announce this year's Keynote Speaker will be Jim Scholefield, VP and Chief Technology Officer for The Coca Cola Company. Mr. Scholefield will share his experiences about SharePoint and Agility - Why IT Organizations Need to be Fully Leveraging the Cloud at the SharePoint Cincy conference coming up on Friday, June 6, 2014 at the NKU METS Center, 3801 Olympic Blvd. Erlanger, KY 41018.
The Speakers
In addition to Mr. Scholefield, this year's SharePoint Cincy Conference has an exclusive line-up of high-level, nationally recognized industry experts and executives sharing their insights and knowledge on the stage and in breakout sessions. Conference attendees will take away a wealth of information that is actionable for individuals across a wide variety of roles: information worker, developer, IT pro, business intelligence, architect etc. This year's speaker lineup includes industry professionals who presented at SPTechCon in San Francisco, and all of the 20+ speakers are recognized experts in SharePoint including:
Rob Bogue, MVP, Author, Speaker, Strategist, Consultant. Twitter: @RobBogue. Top Ten Non-SharePoint Issues That Can Doom Your Implementation.
Steve Caravajal, Ph.D., Director of Digital Strategy and Architecture, Microsoft Corporation. Twitter: @stevetheprof. Enterprise Social Collaboration Solutions.
Ruven Gotz, MVP, Director, Canada OU Lead – Collaboration, Avanade and SPTechCon 2014 Speaker. Twitter: @ruveng. Taxonomy, Content Types and Metadata, Oh My!
Sarah Haase, MLIS, Information Architect and Corporate Librarian. Twitter: @sarahhaase. De-Mystifying ROI Calculations for SharePoint.
Brian T. Jackett, Senior Premier Field Engineer, Microsoft. Twitter: @BrianTJackett. PowerShell for Your SharePoint Toolbelt.
Sean McDonough, Lead Bitsmith /Owner, Bitstream Foundry, and SPTechCon 2014 Speaker. Twitter: @spmcdonough. SharePoint's New Swiss Army Knife: The Content Search Web Part.
Mark Rackley, Senior Consultant, capSpire Inc., and SPTechCon 2014 Speaker. Twitter: @mrackley. How To Develop and Debug Client-Side Code.
Mike Smith, MVP, Author, Senior Technical Instructor, MAX Technical Training. Twitter: @techtrainnotes. Exploring SharePoint 2013 REST Web Services.
Shane Young, MVP, President and Principal Consultant, SharePoint911, a Rackspace company. Twitter: @ShanesCows. Upgrading to SharePoint 2013.
The Attendees
This conference attracts attendees from a wide range of industries and companies from within the Greater Cincinnati area as well as Louisville and Lexington Kentucky, Indianapolis, Indiana, and Columbus, and Dayton Ohio. Organizations that have attended include Proctor & Gamble, The Kroger Company, Great American Insurance, Vantiv, E.W. Scripps, Macy's, Toyota, and Wright Patterson Air Force Base.
Event Hosts
NKU CAI, Center for Applied Informatics, Northern Kentucky University (cai.nku.edu)
MAX Technical Training, Training and Education for IT and Business Professionals (www.maxtrain.com)
The Sponsors
Companies that excel at supporting the SharePoint business and community in the Greater Cincinnati Region include these SharePoint Cincy sponsors:
· CBTS, IT Solutions provider (www.cbts.cinbell.com)
· AvePoint, Compliance, Governance, Management, Productivity (www.avepoint.com)
· Cardinal Solutions, IT Consulting, Technology Solutions (www.cardinalsolutions.com)
· Knowledgelake, The SharePoint ECM Company (www.knowledgelake.com)
· Microsoft Corporation, (www.microsoft.com)
· Avanade, Business Technology Solutions & Managed Services (www.avanade.com)
· SmartIT, IT Staffing & Solutions (www.getsmarterit.com)
· Sogeti, IT Consulting Services, us.sogeti.com (www.sogeti.com)
· Ascendum Solutions, Global IT Solutions (www.ascendum.com)
· Dell (www.dell.com)
· Pait Group, Enterprise Social Solutions (www.paitgroup.com)
· PCMS, Technology Consulting and IT Advisors (www.pcmsdatafit.com)
· SIS, Technology Solutions Providers (www.thinksis.com)
About SharePoint Cincy
SharePoint Cincy is held annually in Cincinnati, Ohio where Northern Kentucky University (NKU) and the regional business community come together for a SharePoint conference of national quality with a local/regional focus. Speakers that are national and regional thought leaders, Microsoft Certified Trainers, Microsoft Engineers, MVPs and MCMs cover a wide range of tracks and topics such as Creating Business Value, Application Development, Infrastructure and Administration, Enterprise Content Management, Workflows, Business Intelligence, Mobility, Cloud, and Social Networking. SharePoint Cincy 2014 will be held at the NKU METS Center on Friday, June 6, 2014.
For more information, visit
www.sharepointcincy.com
.
Media Contact:
Kathy Vaské
Marketing Manager
MAX Technical Training
513-322-8888
Kathy@maxtrain.com