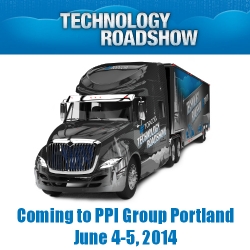 Portland, OR, May 17, 2014 --(
PR.com
)-- PPI Group announces the arrival of the Topcon Technology Roadshow on June 4 and 5, in Portland, Oregon. The mobile solutions center is showcasing the latest construction, survey, civil engineering, architecture and design technologies in a hands-on educational environment.
The Topcon Technology Roadshow is stopping in Portland as part of its 23,000-mile tour across North America in a custom-designed 18-wheeler. The free educational program features live demonstrations and presentations focused on productivity and profitability.
Attendees can customize the experience to suit their schedule. Wendy Finch, Marketing Manager, said, "The technology in this industry changes quickly – we are excited to offer our customers this 'we'll bring-it-to-you' concept, allowing them hands-on demonstrations practically at their doorstep.
"Topcon is making the exhibit interactive for everyone with the 'Spot the truck and win!' social media contest," said Finch. "If you see the Topcon Technology Truck, snap a picture of it and post it to your Twitter or Instagram page with the hashtag #TTR14 for a chance to win a $50 gift card." For more information and complete rules on this contest, visit topconroadshow.com.
"This traveling exhibit is a wonderful opportunity to see the latest industry innovations at an attendee's pace and convenience," said Finch. "PPI representatives along with Topcon personnel and Autodesk personnel will be on hand to help industry professionals find the best solutions for their company-specific needs."
For more information, go to the
www.theppigroup.com/roadshow
and register for the event.