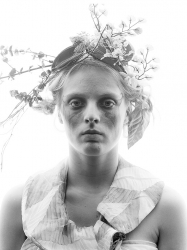 Dallas, TX, May 23, 2014 --(
PR.com
)-- As a signature Summer event, Dallas's Laura Rathe Fine Art hosts 'Night in Summer White', an artist reception featuring current and past works by notable contemporary photographer, George Krause. On Saturday, June 28th from 5-8pm, patrons and photography enthusiasts dressed and adorned in all-white attire will have the unique opportunity to have the artist shoot their portrait with his signature light-box technique, as demonstrated in his 'Sfumato' series. Portraits will be available for purchase in 3 different sizes, and Krause will be available for private commissions.
Krause's 'Sfumato' series differs from conventional portraiture with the primary light source coming from behind the subject, creating a dramatic effect where principal features are cast in shadows, while secondary facial features are highlighted.
About The Artist
George Krause was born in Philadelphia, Pennsylvania in 1937 and received his training at the Philadelphia College of Art. He received the first Prix de Rome and the first Fulbright/Hays grant ever awarded to a photographer, two Guggenheim fellowships and three grants from the National Endowment for the Arts.
Krause's photographs are displayed in major museum collections including the Museum of Modern Art in New York, the Museum of Fine Arts, Houston, The Philadelphia Museum of Art, and the Bibliothèque Nationale in Paris. In 1993 he was honored as the Texas Artist of the Year.
Fellow English photographer and Professor, Mark Power, describes Krause's style and body of work by stating, "His work is like the obverse side of Cartier-Bresson's coin; his strongest photographs, for me, capture those indecisive moments when man's persona takes over, moments when the spirit transcends the flesh; girls walking up stairs and changing to Alice-in-Wonderland, doors turning into faces, men metamorphosing into gods, gargoyles stepping off walls, tenuous moments when stone turns to flesh, or flesh to stone, and myth and legend walk among us."
About Laura Rathe Fine Art
Formally established in 1998, Laura Rathe Fine Art represents a dynamic artist roster including emerging, mid-career, as well as blue-chip contemporary artists. With a primary focus on abstract expressionist painters, LRFA also represents diverse sculptors, mixed media artists, as well as photographers.
Located in the heart of the gallery and design districts of Houston and Dallas, Texas, LRFA provides art consultation services, hosts artist exhibitions and actively participates in notable art fairs. Working closely with private and public collectors, LRFA artists have been acquired into world-renowned corporate art collections, including BBVA Compass and HKS Architects Headquarters.
For additional information, details or to schedule an interview, please contact 214.761.2000 &/or:
Janice Meyers, Director - Janice@LauraRathe.com
Courtney Feavel, Assistant Director - Courtney@LauraRathe.com