Auction Sale of Andy Warhol's Prized 1974 Silver Shadow Rolls Royce Continues on eBay Motors
With over 3000 visits, the Andy Warhol Rolls Royce auction sale on eBay Motors continues to create robust interest in this iconic artist's prized Silver Shadow luxury automobile.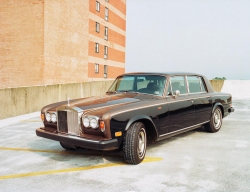 Wilkes Barre, PA, May 29, 2014 --(
PR.com
)-- The iconic artist Andy Warhol's Rolls Royce Silver Shadow
auction sale on eBay Motors
continues with robust interest by over 3000 visits over a 7 day period.
The Warhol Rolls Royce auction continues indefinitely until the luxury vehicle meets the minimum ask price by its Pennsylvania owner. The current starting bid price is $84,500. For more information about this sale, contact ChrisComm Estate Solutions, at chriscom@epix.net, or visit www.chriscomestatesolutions.com.
Warhol, considered the leading artist of the 20th Century and the figurehead of the Pop Art movement, was extraordinarily successful mixing his artistic talent with commercial success. During his most commercial period, Warhol decided to buy himself the most luxurious car money can buy - a 1974 Rolls Royce Silver Shadow.
Warhol's Silver Shadow was ordered on October 14th, 1974 from a New Jersey dealer with specifications of Walnut over Black paint and a Black Leather interior.
Warhol never had a driver's license. Many notorious stories abound of Warhol as a passenger in his Rolls Royce. Famous celebrities, such as Truman Capote, Liza Minnelli, and others acted as chauffeur. This Silver Shadow was a prized possession of Warhol for his life and was fastidiously maintained in his Park Avenue, Manhattan New York City garage.
Warhol's works are among the most sought after in the art world and continue to reach record-breaking auction prices. In November, 2013, a painting by Warhol sold for $105.4 million -- a record for the famed pop artist and the second-most expensive piece of art ever auctioned, according to the Sotheby's auction house. That same month, another iconic Warhol work sold for $57.2 million at Christie's.
After Warhol's untimely death in February, 1987, the Warhol Rolls Royce, along with Warhol's entire estate, was offered in a major nine day auction to benefit the Andy Warhol Foundation for the Visual Arts. As the last lot on the second day of the Warhol event, the Rolls sold for $77,000 - more than five times the low estimate - the highest priced Warhol item sold that day.
All service records are included in the sale. Additionally, provenance letters from Warhol biographer, Victor Bokris, and Warhol's friend, Ultra Violet, are included. Also included is a copy of the original purchase order from Rolls Royce, a copy of the 1988 sale invoice and copy of the Warhol Enterprises title.
Contact
KenMarq, LLC
Kenneth Marquis
570 823 0518

Contact