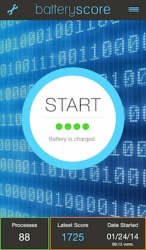 New York, NY, May 29, 2014 --(
PR.com
)-- BatteryScore allows users to benchmark the strength of their iPhone battery.
The BatteryScore application operates by running a stress load test on the phone and then measuring the battery degradation over the period that the test runs.
The application analyzes the battery life of the iPhone by measuring the time taken in seconds for the phone to move through two API battery level thresholds and uses that to compute an overall score for the battery.
The result is a score, which you can easily compare to other phones to see if your battery is still in good condition. The higher the score the better the battery.
Through the app, users are able to view their test history, share test results through social media or email, or upon the completion of an in-app purchase upload these results to a web portal that allows them to compare their BatteryScore results with other users of the app.
Key Features
-Performs a stress test on the battery
-Measures battery drainage over a certain period
-Fast and reliable benchmark results
-Compare results with other iPhones online
-Works with iPhone 5 and iPhone 4 series
-Free to download and test your iPhone battery
batteryscore.com