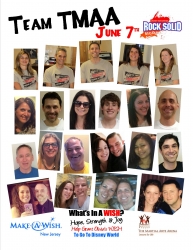 Matawan, NJ, May 30, 2014 --(
PR.com
)-- Team TMAA will complete a 5 mile obstacle course, mostly in mud, jumping into murky water, swimming & going under barrels in those murky waters, traversing obstacles such as walls, cargo nets, monkey bars, telephone pole sized ladder, and an A-frame structure at least 2 stories high & crossing over water on a cable. The Rock Solid Mud Run is on June 7th at Raceway Park, Englishtown, New Jersey. Team TMAA is doing this for Olivia's Wish to go to Disney World.
Olivia is just like any 4 year old girl; her favorite things are the color purple, the Disney princess movies and the Philadelphia Eagles. She also likes to play outside and the board game Candy Land. Olivia also has a life threatening neurological disorder caused by a single gene. Neurofibromatosis can lead to disfigurement; blindness; skeletal abnormalities; dermal, brain, and spinal tumors; loss of limbs; malignancies; and learning disabilities.
Arena stated that in March 2013 he was approached by Erin Matsko, local resident and member of
The Martial Arts Arena
's 45 Minute Solution Fitness Program. Matsko asked Arena if he would be interested in doing the mud run. Both quickly decided the best course of action was to do it to help others. Last year, Team TMAA raised over $6,000 for The Union Beach Disaster Relief Fund. This year it's much more personal. It's about a child's wish - Olivia's Wish.
In the summer of 2013, Team TMAA's Board was formed with John Arena as President, Rique DeSousa as Communications Manager, Ellen Katcher as Secretary, Erin Matsko as Community Relationship Developer, and Elizabeth Patterson as Treasurer. Team TMAA has one simple yet Extraordinary Ideal- To Make Life Better for Children in Need. Based on Team TMAA's mission & guidelines Make-A-Wish New Jersey was selected. And shortly thereafter, Olivia's Wish was adopted!
Below are some highlights of the collective effort to help grant Olivia's Wish:
· May 8, 2014- Olivia-Tini Night at Airport Plaza Bar & Liquors in Hazlet
· May 16, 2014- Jean Day at Grice Middle School in Hamilton
· May 5-30 2014- (Disney Princess) Star Program at St. Ambrose School in Old Bridge
· May 31, 2014- Clothing Drive at The Martial Arts Arena in Matawan
· June 7, 2014- Rock Solid Mud Run at Raceway Park
· July 12, 2014- Picnic at Holmdel Park
Arena said "I am both proud of and amazed by the overwhelming support and commitment of so many people who just want to help. The families I am privileged to serve have opened their hearts for Olivia."
As listed on the website, bit.ly/Olivias_Wish: "A Wish is more than just a nice thing. It impacts everyone involved - Wish kids, volunteers, donors, sponsors, medical professionals and communities. The impact varies. For Wish kids, just the act of making their Wish come true can give them the courage to comply with their medical treatments. Parents might finally feel like they can be optimistic. And still others might realize all they have to offer the world through volunteer work or philanthropy."
Other Team TMAA members participating in the Rock Solid Mud Run include Neeraja Akula, Carla Casal, Connor Daukshus, John Foley, Stephen Galletta, Jim Granito, Lisa Haran, Jordana Koffler, Brandon LaForge, Paul Marini, Francesca Meehan, Jason Pinter, Karen Rubinstein, and Jessica Wetjen. Arena pointed out that there are 6 couples; Robyn & James Krause, Laurin & Westley Mironov, Jen & Chris Panza, Liz & Kevin Patterson, Jessica & Raymond Stanley, Rachel & Greg Wareham and 2 mother & son; Janice & Cristofer Baratta, Jennifer Krasinski & Nicholas Leonte participating as well.
Arena stated all members of Team TMAA are inspirational for many reasons and he especially admires the moms that work full time and/or managed their homes, and make the time to exercise. Arena pointed out that Lisa O'Keefe organized the Star Program at St. Ambrose School. Arena identified Connor Daukshus as a great example for young Students in his Martial Arts school. Daukshus is preparing his 2nd Degree Black Belt Test as well as Instructor Certification. Arena also mentioned that Rique DeSousa is a great inspiration for anyone who thinks its too late to change your lifestyle. DeSousa started his martial arts career at time when most start to slow down (in his 50s). DeSousa even manages to volunteer his time to assist with classes.
Each member of Team TMAA is committed to raise $100 from sponsors. Anyone that wishes to sponsor Team TMAA or a specific Team member can contact Arena or visit the website: bit.ly/Olivas_Wish. Anyone that donates $69 or more can train for free for 6 weeks at The Martial Arts Arena.
The Martial Arts Arena is a martial arts school that offers a variety of programs for all ages. Parents rave about their age specific and unique Lessons for Life Character Development Program. Giving back to the community is an essential part of Arena's philosophy and programs. Other programs offered for teens and adults are traditional Martial Arts, Muay Thai Kickboxing, and The 45 Minute Solution & iBody Fitness Programs.